On the first floor of the historic printworks at Bealim House, a stone's throw from St James' park stadium, holds the venue for an Indian street food eatery with gastropub vibes, perfect for groups of all sizes and occasions.
The restaurant gave off New York loft vibes, with low hanging large lights, wooden floors and exposed brick, and a large seating area that opens out to an 86-seater space. There are booths lining the walls and options to move tables around to create larger parties. Loud, fun music was playing, the bar was bright with white tiles, and you could just see through to the open kitchen.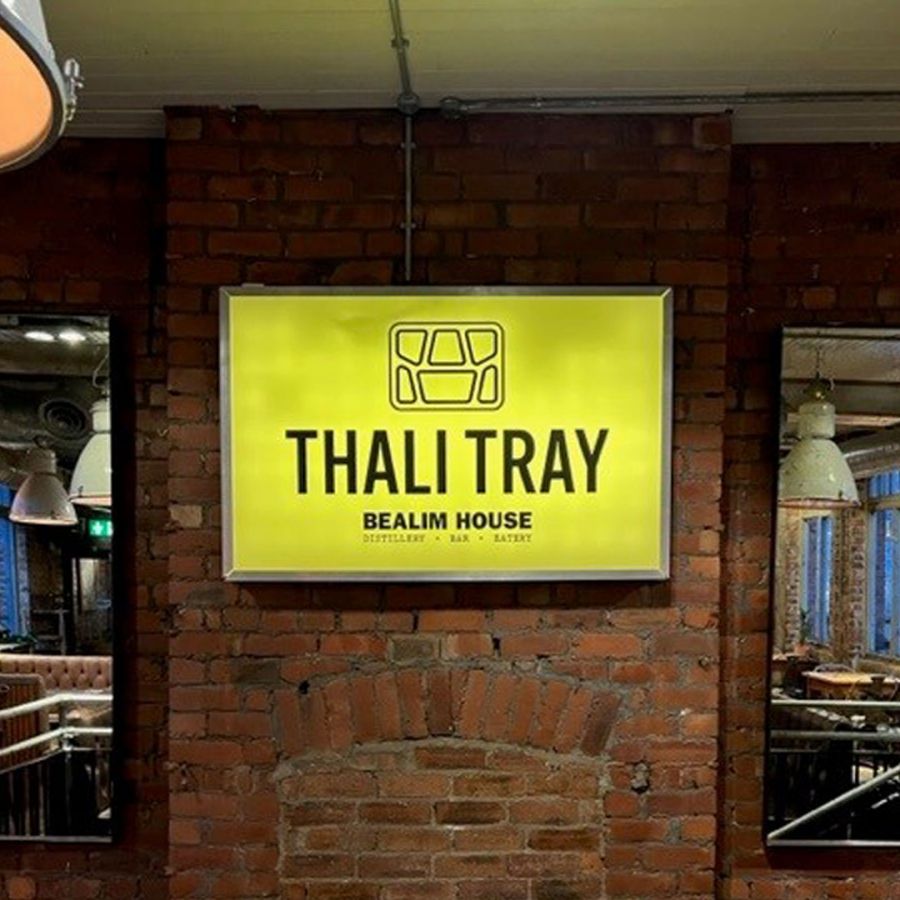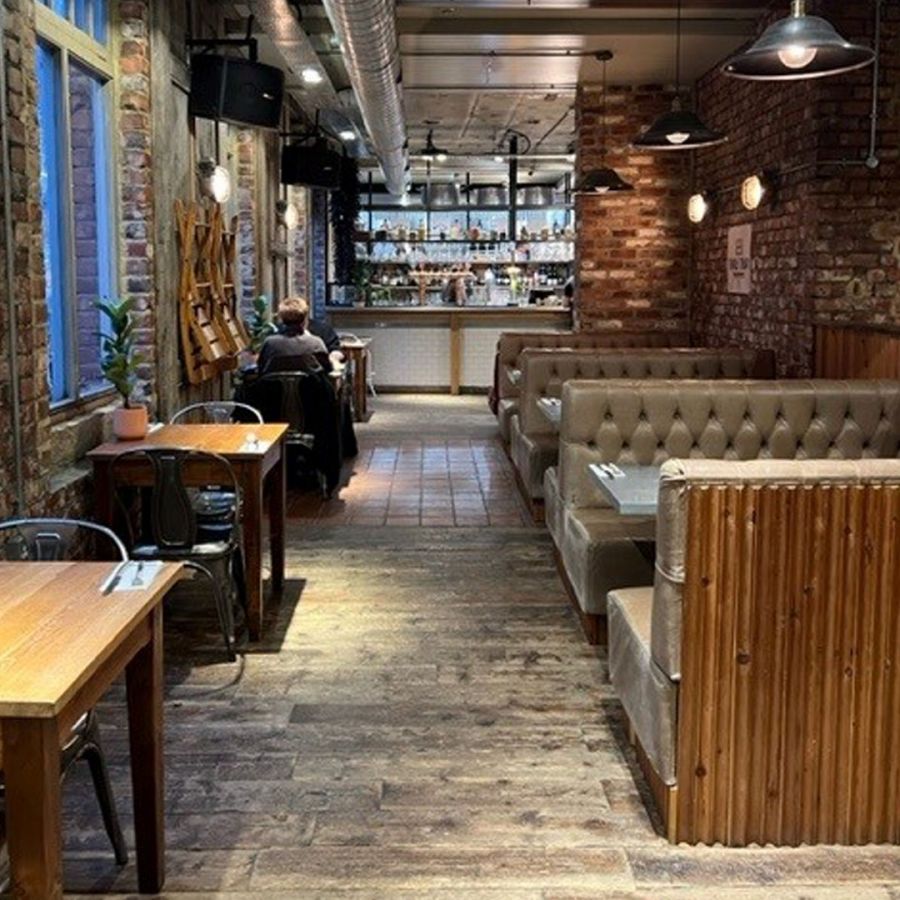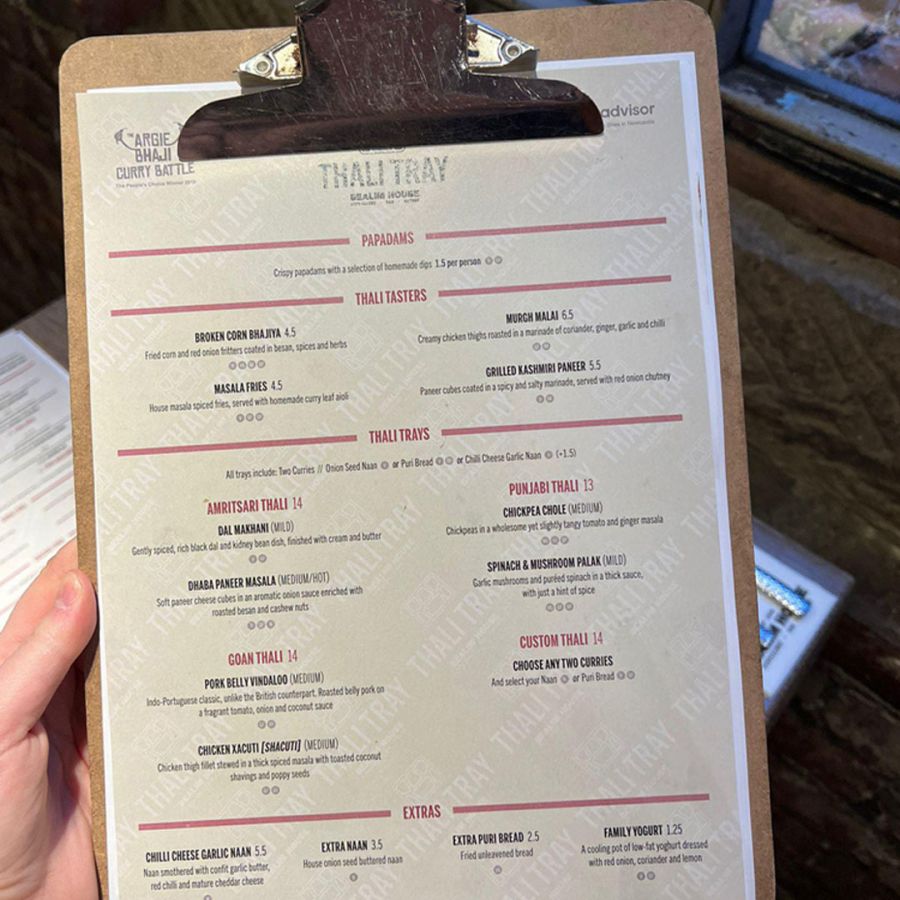 Thali Tray first launched as a mobile catering unit in the summer of 2018 and within three months of trading had been awarded the People's Choice Winner 2018 at the hugely popular Argie Bhaji Curry Battle 3.0 at Wylam Brewery. Following on from that success, Thali Tray then took up permanent residence at Arch 2 in Ouseburn, and then moved onto Bealim House in December 2022.
The drinks menu has a selection of cocktails such as margarita, espresso martini, raspberry bon bon, and a list of 'bealim' specialities, made in the bar downstairs, such as 'the wrong Newcastle – Newcastle watermelon gin, described as Newcastle in the tropic'. The menu also included a selection of classic draught and bottled beer.
The menu was refreshingly small, consisting of papadams, 4 'thali tasters', 6 'thali trays' and a few different naans.
We started with papadams and dips: a tray full of light and crispy papadams, with a chilli jam that was vibrant and spicy, as well as a ginger and turmeric dip that was tangy, hot and punchy – perfect to whet the appetite.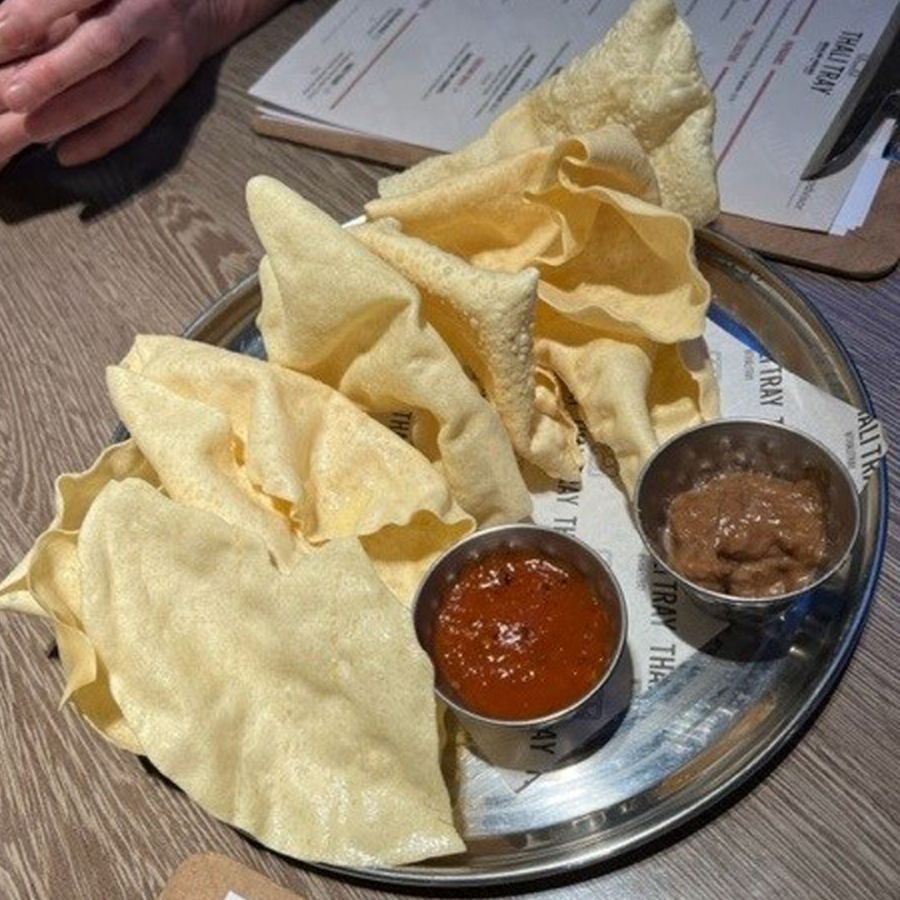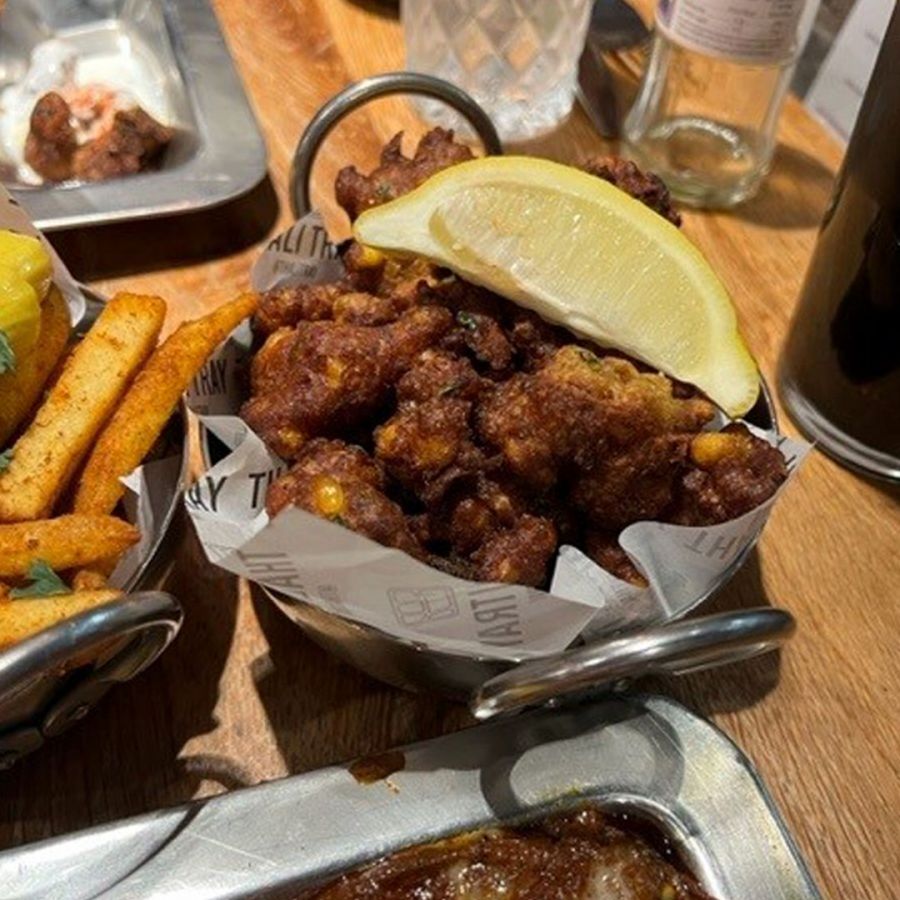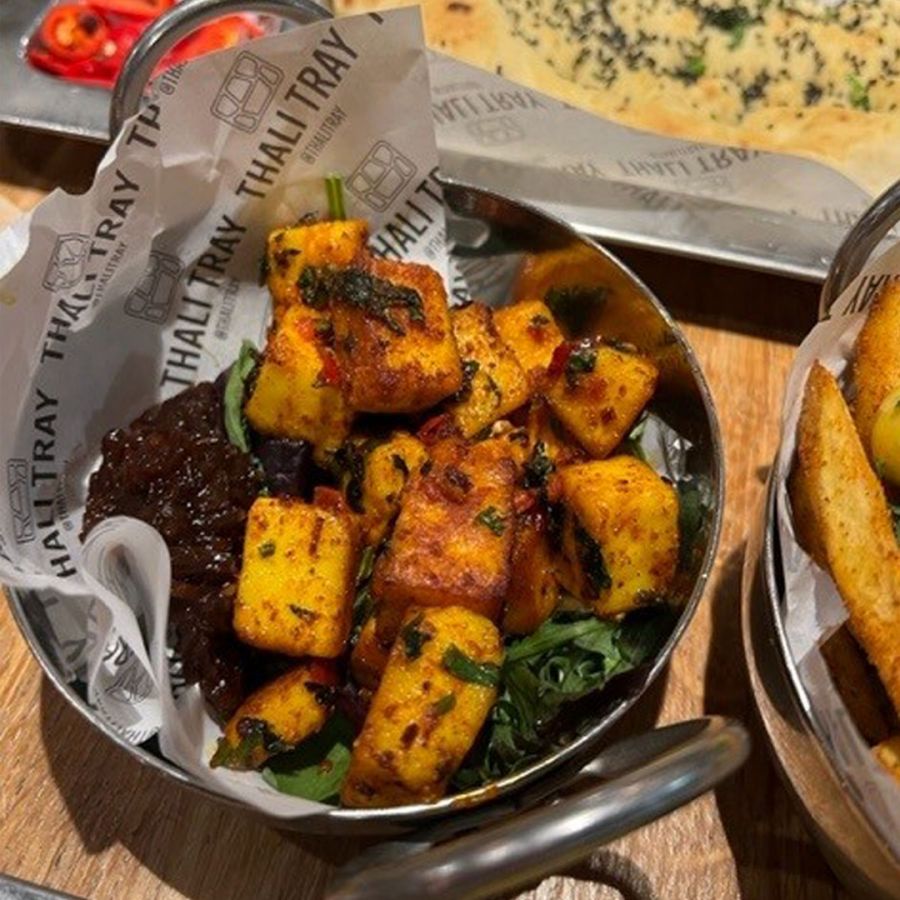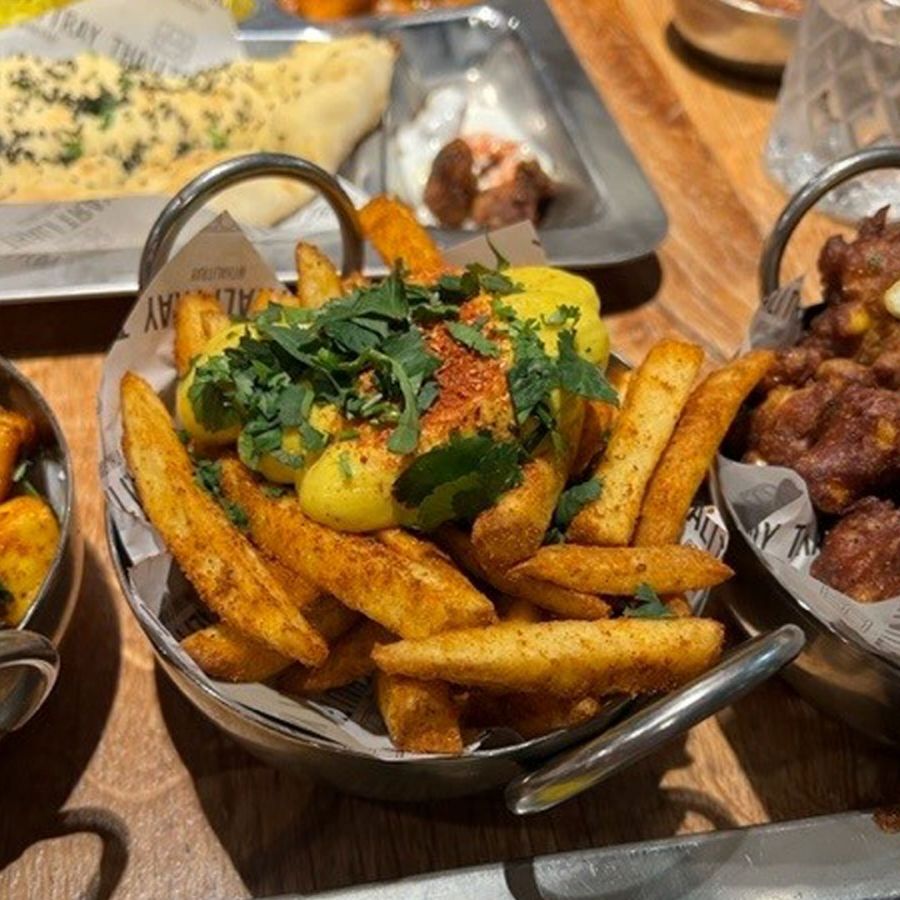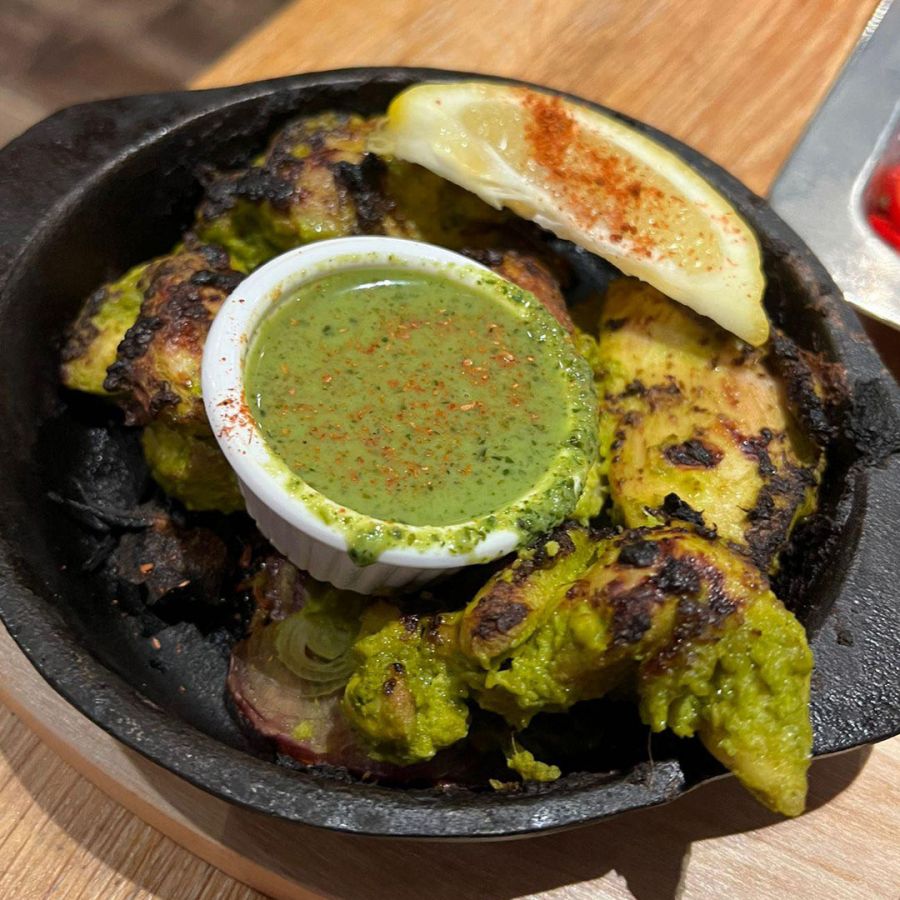 Next up, the 'Thali tasters':
Broken Corn Bhajiya. Fried corn and red onion fritters coated in besan, spices and herbs. This was our favourite starter, the batter was light, crispy and salty, which was a great contrast with the sweet corn. The spices were hot and rounded which went well dipped into the fresh yogurt.
Murgh Malai. Creamy chicken thighs roasted in a marinade of coriander, ginger, garlic and chilli. This dish was a vibrant green, served on a sizzling hot plate with some onions, the chicken was succulent, and flavours were fresh. The dish came with a coriander dip that was light in flavour and added a freshness to the chicken.
Masala Fries. House masala spiced fries, served with homemade curry leaf aioli – bright in colour, light and crispy fries flavoured with rounded spices, topped with a vibrant yellow curry leaf aioli and fresh coriander, a perfect creamy dip full of flavour.
Grilled Kashmiri Paneer. Paneer cubes coated in a spicy and salty marinade, served with a red onion chutney. The dish is served in a small authentic metal bowl with handles, filled with colourful blocks of paneer on a bed of rocket. The spices complimented the salty cheese, and it was a pleasant surprise as to how well it complimented the sweet red onion chutney.
The Thali trays:
Choose between Amrtisari, Punjabi, Goan, or make your own custom tray. All served with rice, lime pickle, red onion and fresh chillies, and a choice of Puri, Onion seed or Chilli cheese garlic Naan. Also, with a small serving of soya protein chunks, coated in spices and yogurt.
The Amritsari Thali involved two curries Dal Makhani, a gentle, mild spiced curry, rich black dal and kidney beans, finished with cream and butter and Dhaba Paneer Masala, soft paneer cheese cubes in an aromatic onion sauce enriched with roasted bean and cashew nuts. The creamy dal, lightly spiced, with a drizzle of cream, and full of lentils and black beans was matched perfectly with the slightly spicier, more vibrant paneer dish. We also tried a mix and match tray consisting of Spinach and Mushroom Palek, a garlic mushroom and pureed spinach curry with a touch of spice, as well as the Pork Belly Vindaloo. The pork dish was unlike the British counterpart we might know and love, but offered a rich, creamy flavour. Packed full of coconut, fragrant tomatoes with a tangy punch.
The Naans were soft, chunky, and fluffy, not quite as light in texture as would have been expected. With the array and abundance of spices and flavours, we welcomed the family yogurt pot.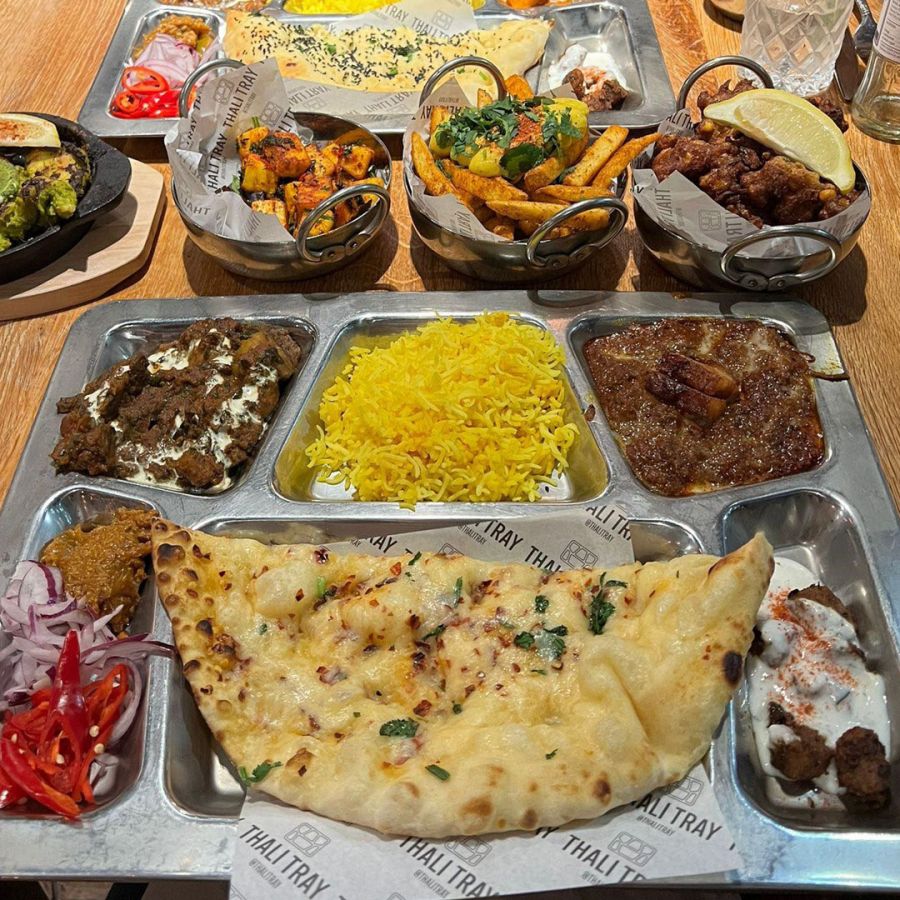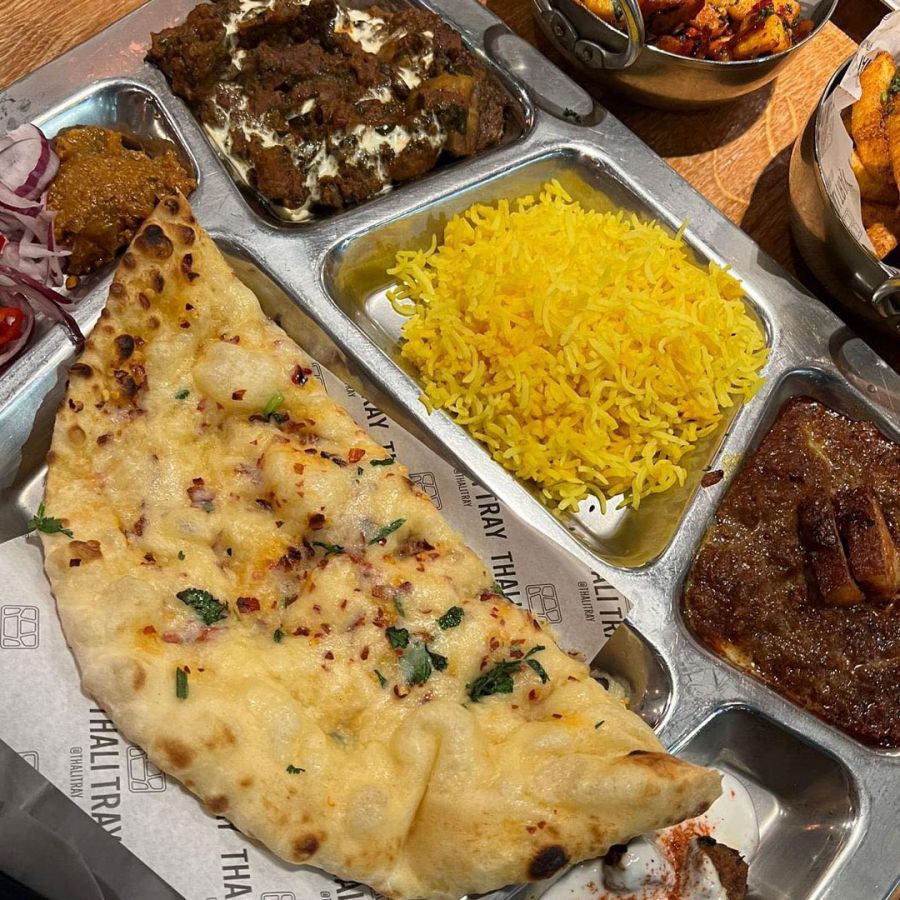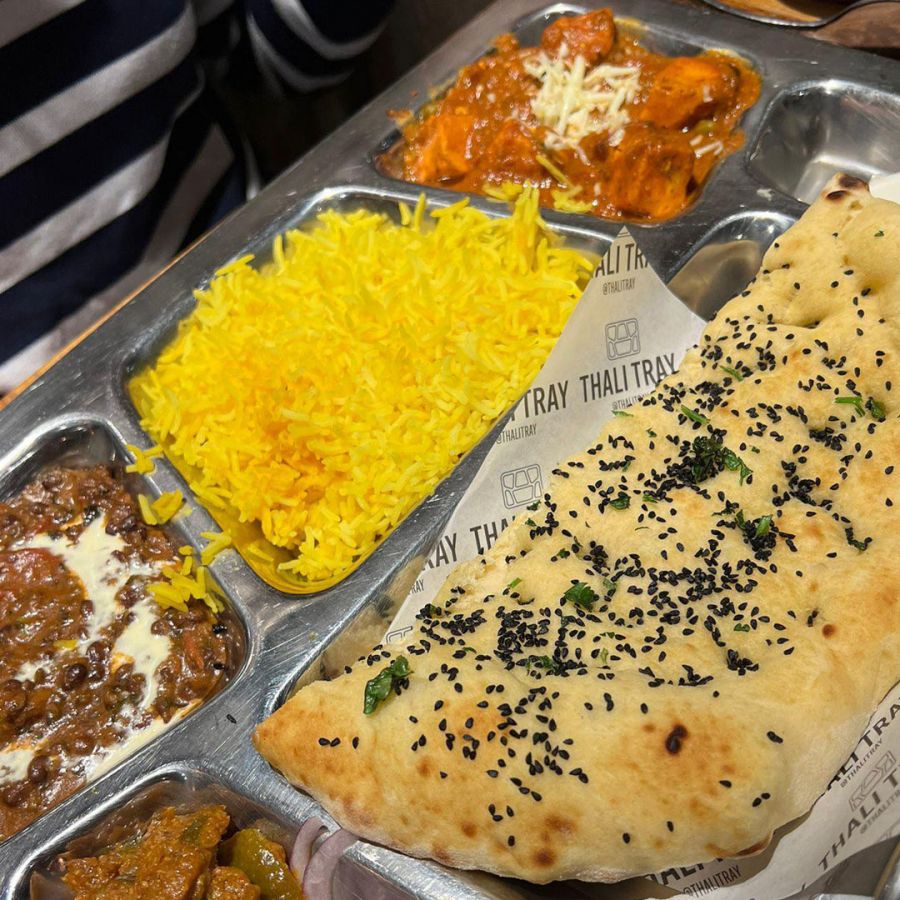 The restaurant offered an authentic Indian street food experience with great food including a variety of vegetarian options all served in classic dishes including metal bowls and trays – perfect for sharing and large parties.
For media enquiries, please email: mary.niven@dalziel.co.uk