*Disclaimer* – This blog is not for any vegetarian or vegan fans!
We were back again for another year at Meatopia, a meat lovers paradise, right in the heart of our capital. This year held the ten-year anniversary at Tobacco Dock, starting off as a one-day event, now an impressive four.
There's no smoke without meat, from simple grills to imposing smokers and roaring fire-pits, every method of fire cooking imaginable is on show at Meatopia, and at the helm of the flames are some of the world's most skilled chefs. Expertly picked, it's a place for the big names in BBQ to show off.
This event uses nothing but sustainable wood and charcoal and responsibly-sourced, quality ingredients. The smokiness doesn't end there. All that smoky, flavour-filled food is thirsty work. Luckily, the festival has an array of quenching beverages – our favourites showcasing smoky spirits.
Combined with an eclectic mix of live music and entertainment, there is something for everybody over the course of this four-day event.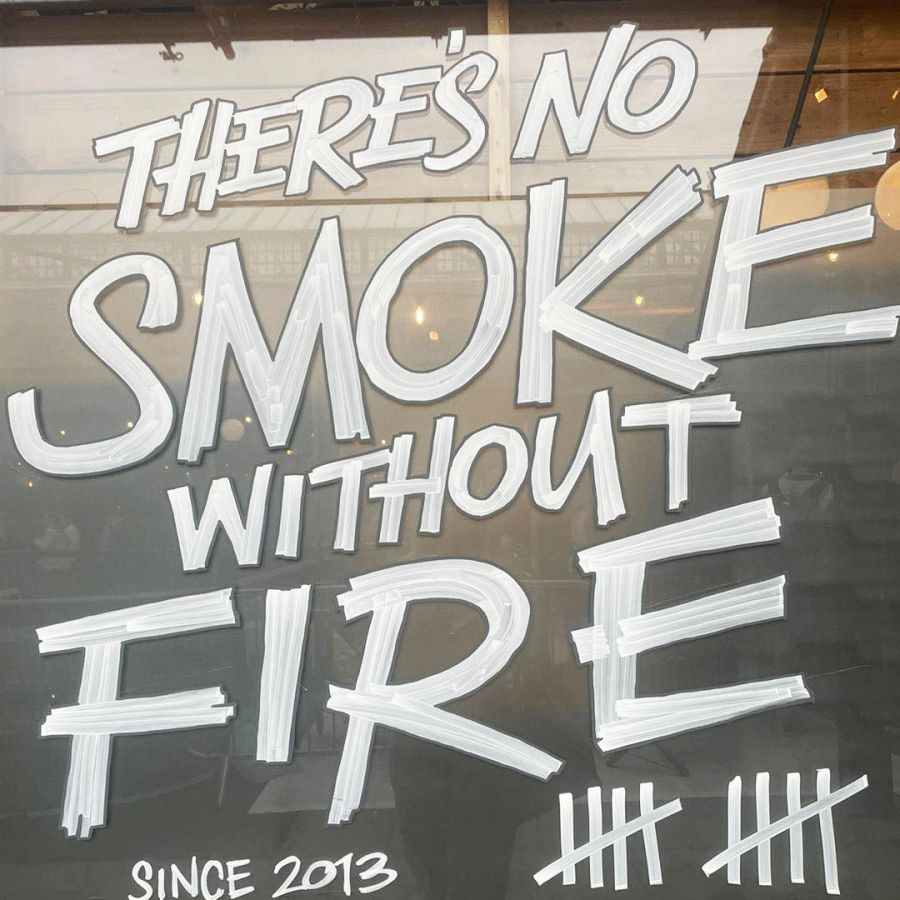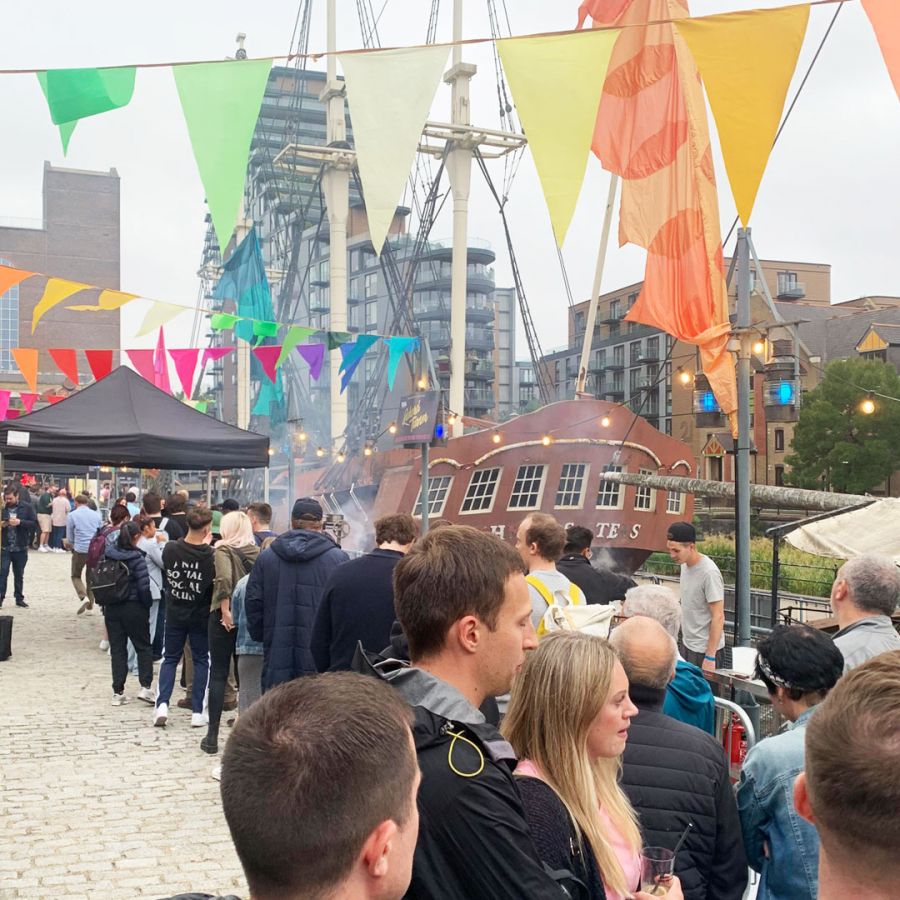 As there was a single dish per chef there were 20 dishes to choose from. We gave it a good stab at what was on offer, and we managed to try a large variety that were available.
We started with Ben Quinns Whole Smoked Chicken, Hot Ancho Honey, Tahini Gravy, Chilli Pesto Tomatoes and Crispy Chilli. Succulent, subtle smoky chicken with roasted notes from the ancho hot honey and rich, earthy hits from the tahini. All mopped up with the crispy bread. It was a good start!
Next up, Rob Hallas and Robert Trif with real showstoppers.  The Bastards Bistro boys brought us Cull Yaw Smoked Beetroot Mole, Pickled Anchovy and Toasted Pine Nuts – an exemplary surf, turf and earth example. Le Bab, wowed with their take on 'Butter Chicken'. Creamy butter sauce rich in spices, chicken thigh, flatbread and finished with a green pepper sauce.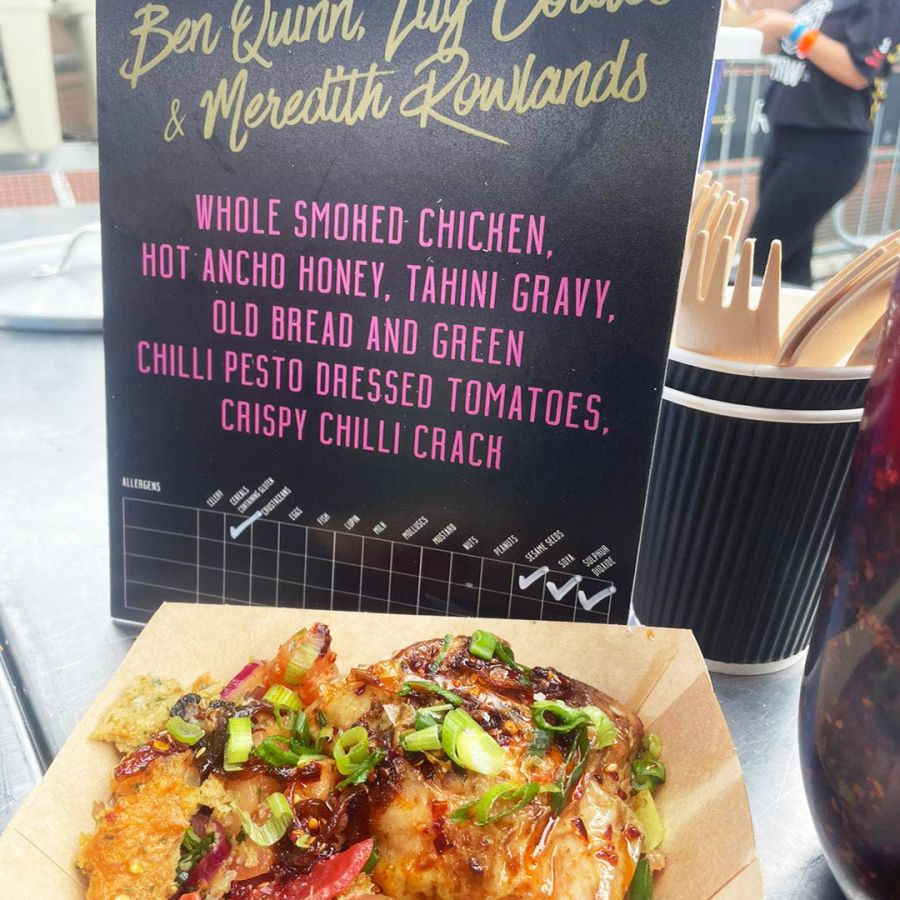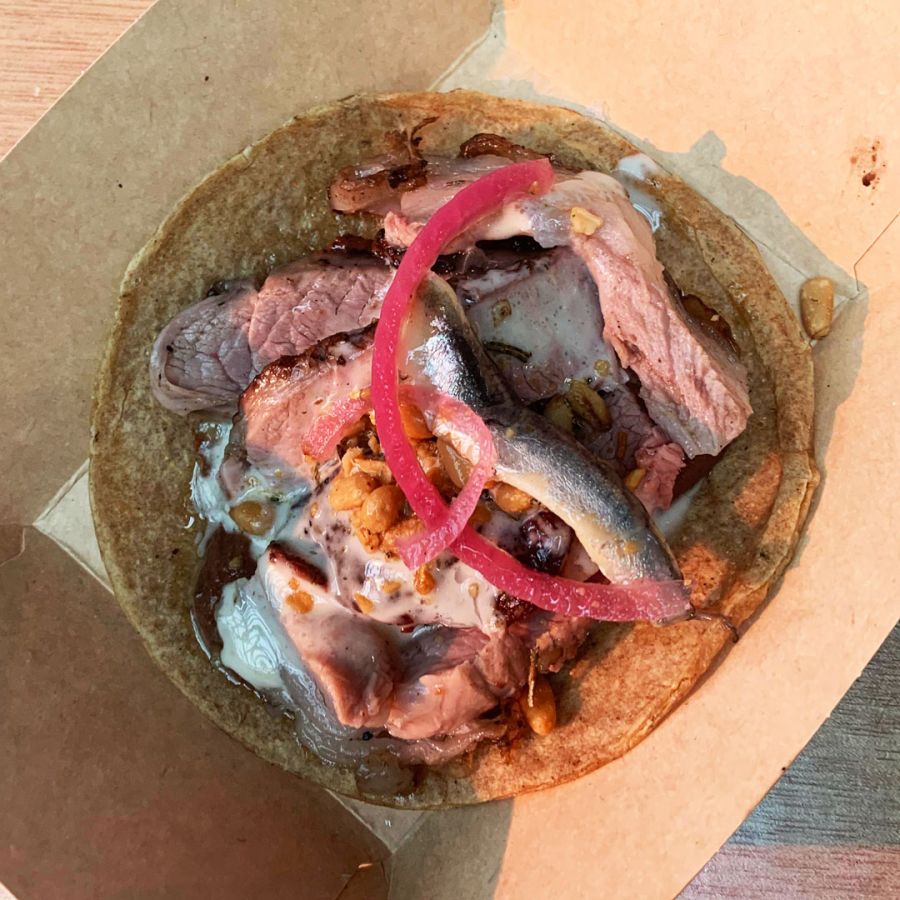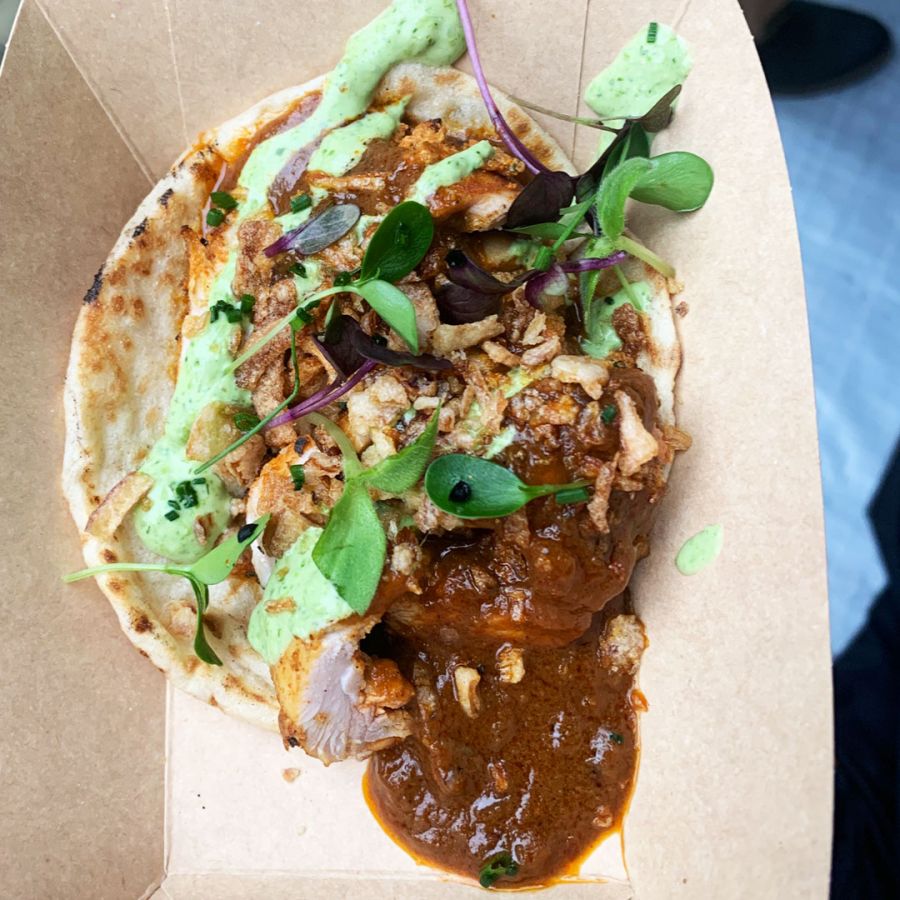 We headed to Texas with Holy Smoke BBQ's: Holy's Spicy Bacon, Sriracha Syrup and Apple-Maple Crumb. A simplistic looking dish with a flavour punch. This bacon was certainly not the extra, not a side… but the main event. Spicy, sweet, rich, fruity all finished off with the fattiness of the pork. Wow, just wow. A real highlight of the festival.
Another knock out was Mondo Sando's Traffic Light Chicken. Brined and marinated boneless chicken thigh, grilled for the ultimate crispy skin, chopped and topped with green and red smoked peri sauces, fried onions, radish, with a triangular grilled crouton of chicken fat-soaked bread to mop up with.
One of the founders of Meatopia, Richard Turner is an award-winning chef with a passion for quality produce. His dish, Regeneratively-farmed Beef Steak on Toast with Bone-marrow Butter. Rich in umami, and heavily dosed in Richards famous savoury, full-bodied sprinkle. Dried beef fat, cayenne, salt and garlic. Pure indulgence.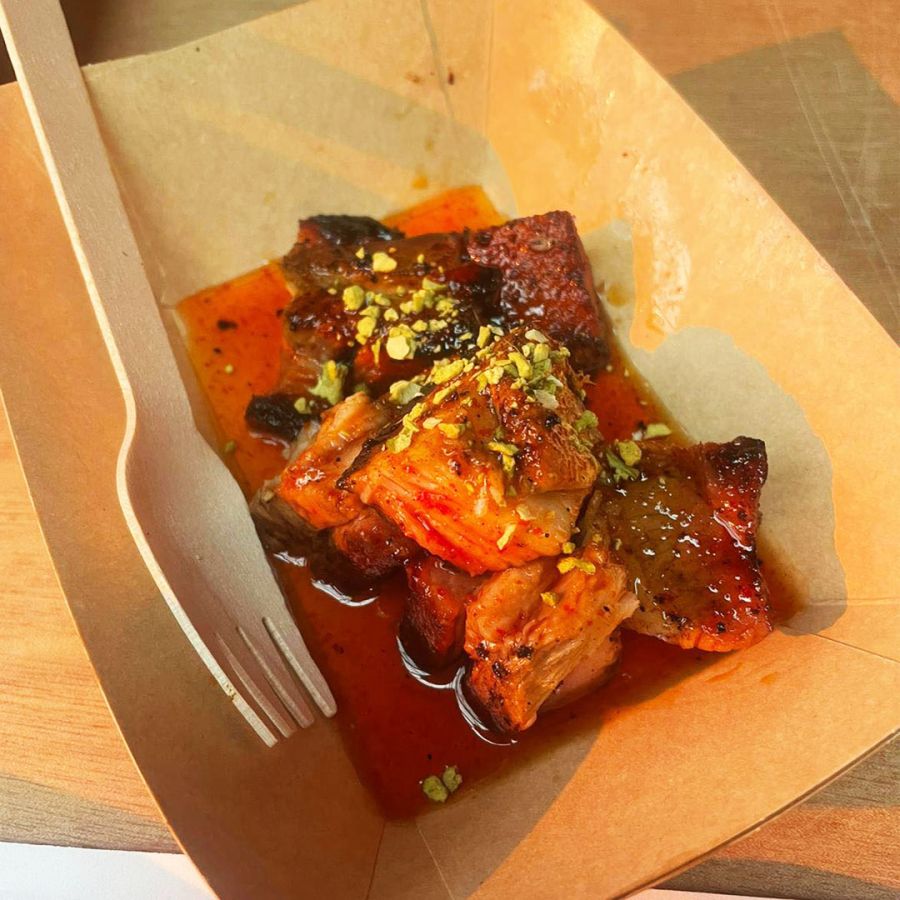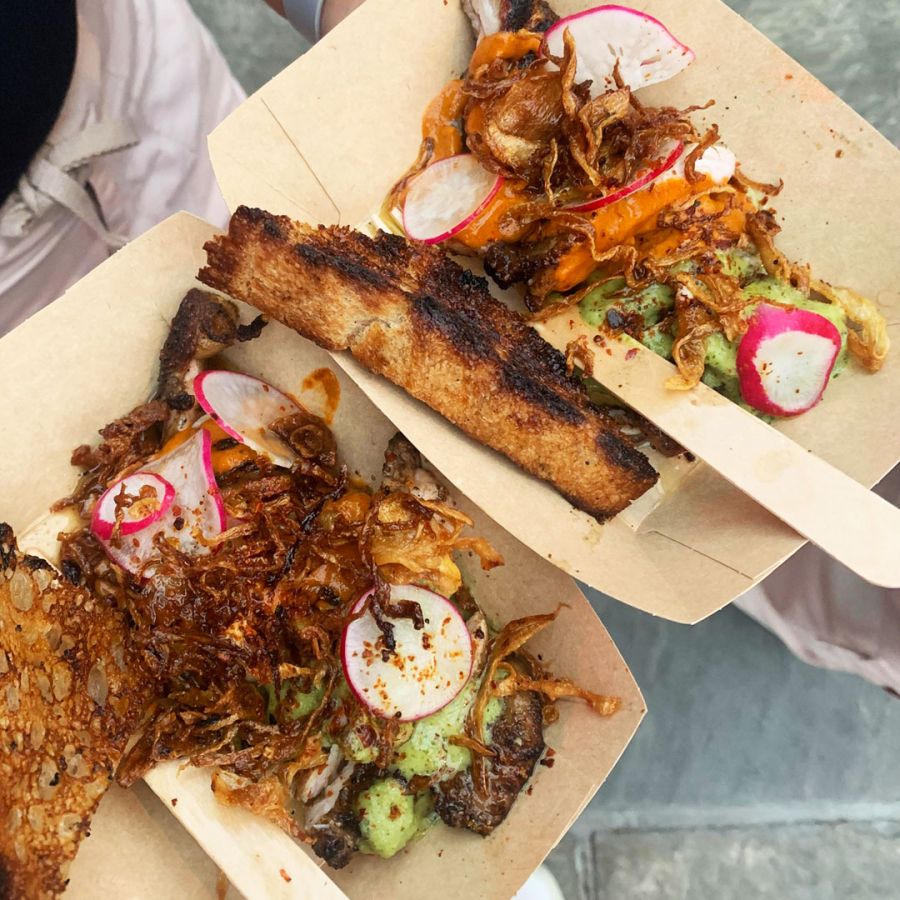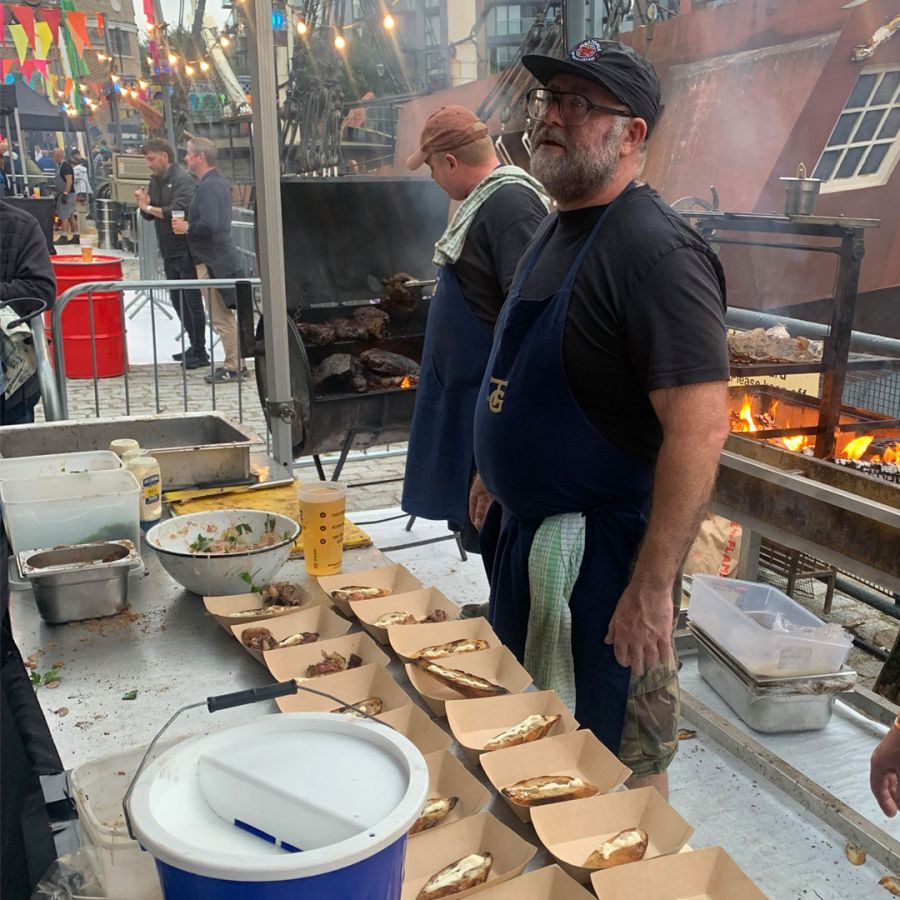 Other dishes included Hawksmoors Beef and Bone Marrow Burger, Slow Cooked Honey and Stout Bacon, Green Slaw and Blue Cheese as well as Bocaloco's Fire-cooked Prawns, Smoked Sausage and Corn topped with Ajin Butter.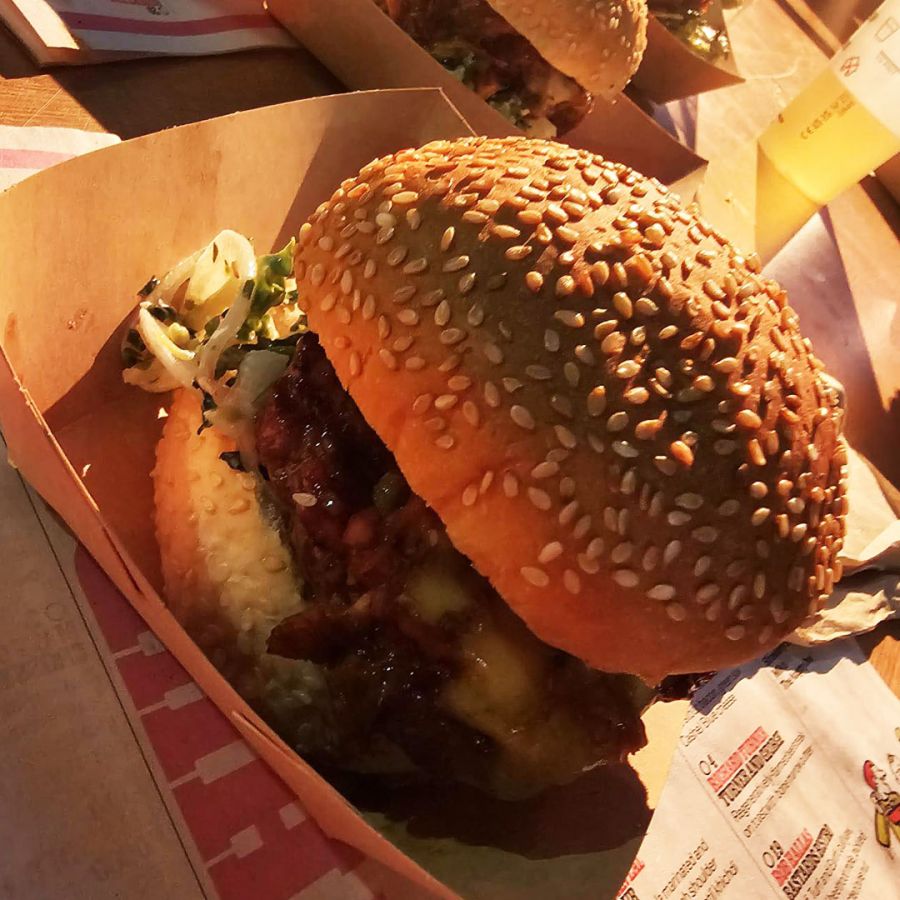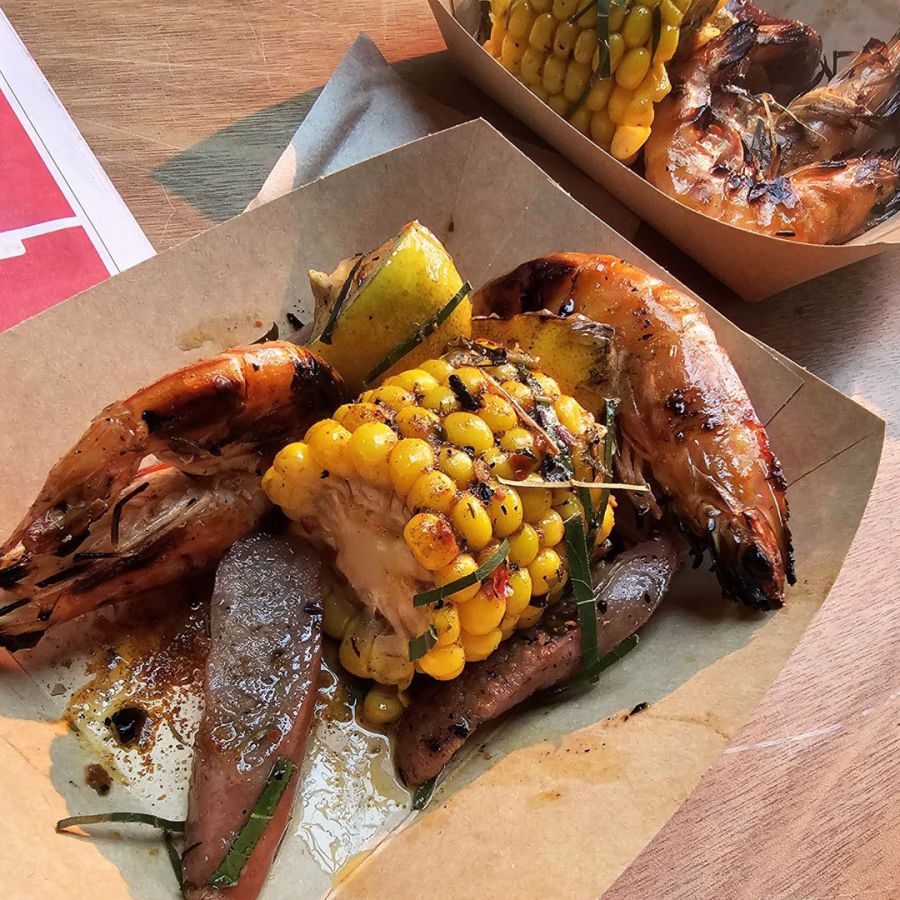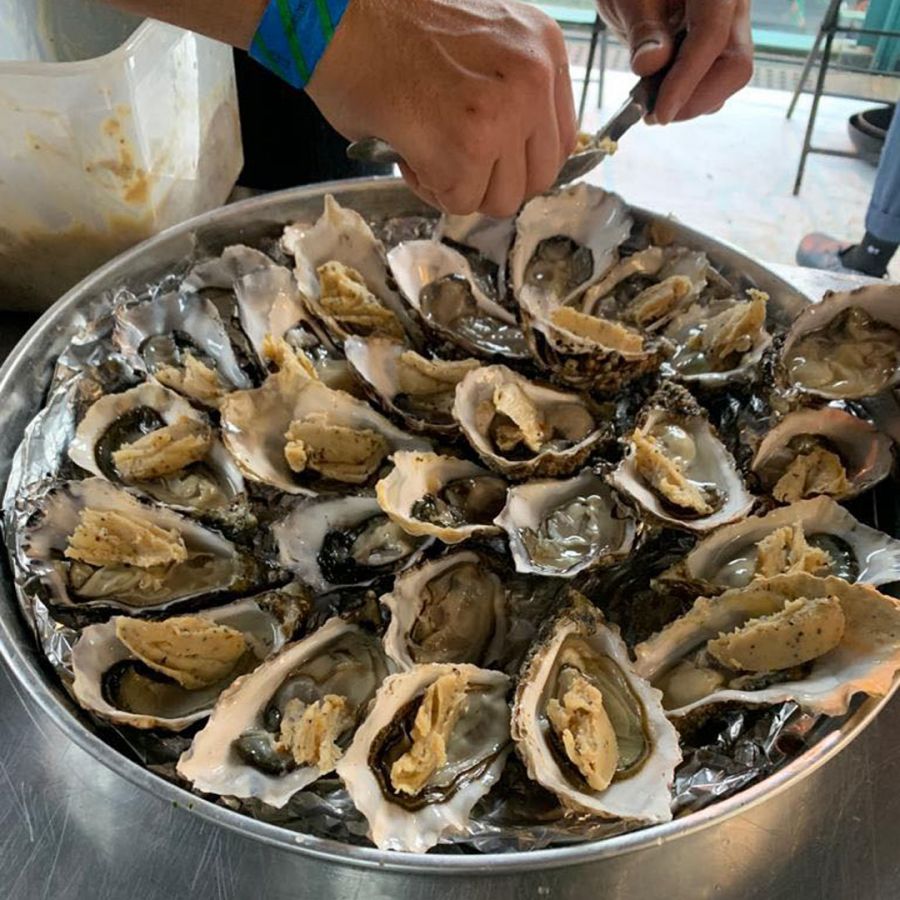 The flavours didn't end there. The Horse with No Name wowed with their silky smooth Texas Bourbon with a punchy habanero kick as well as Del Maguey back with *THE* frozen Pina Margarita. Showcasing the smoky aromas, flavour and rich textures their award winning Mezcals have to offer.
Chatting to the chefs around the fires, they are passionate about where their dishes were created, where their meat comes from, and they are there to educate you as you go.
This is the best place to sample top quality dishes from chefs you might not usually get to enjoy. One word of warning. The smell of smoke will linger for the next few days, no matter how much you wash your hair or clothes.
For media enquiries, please email: mary.niven@dalziel.co.uk