London's foodie scene has exploded with an abundance of Michelin starred restaurants, buzzing markets, and food makers focusing on home-made ingredients. We hit an array of London's food market setting including Market Halls Victoria, Seven Dials Market and Mercarto Mayfair.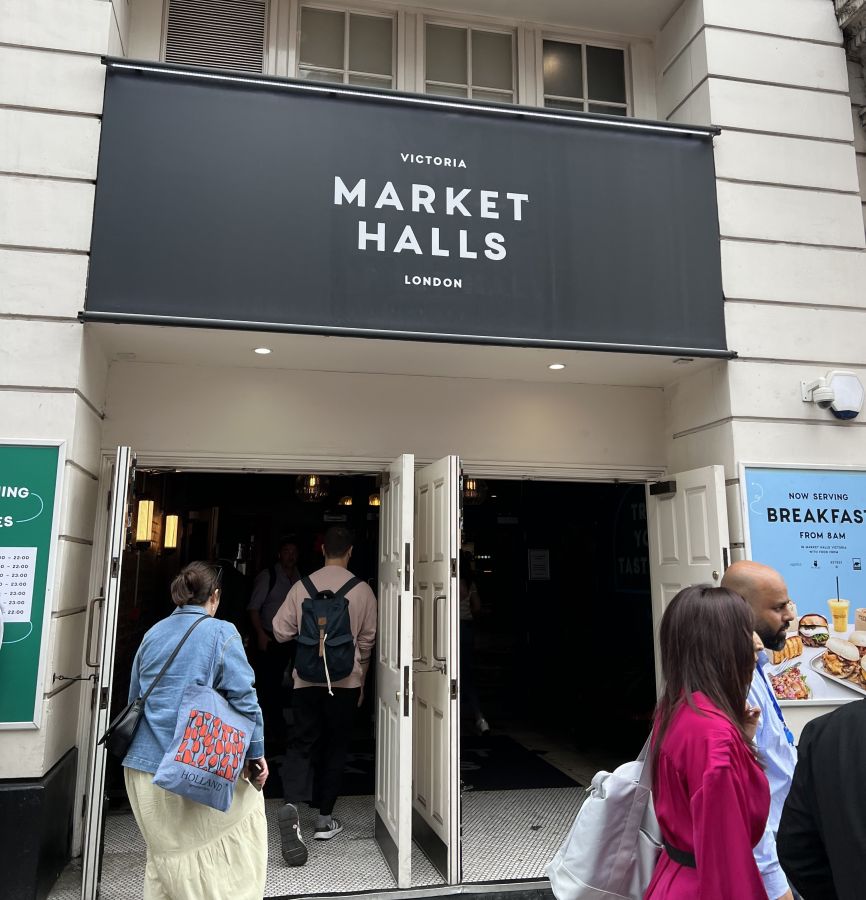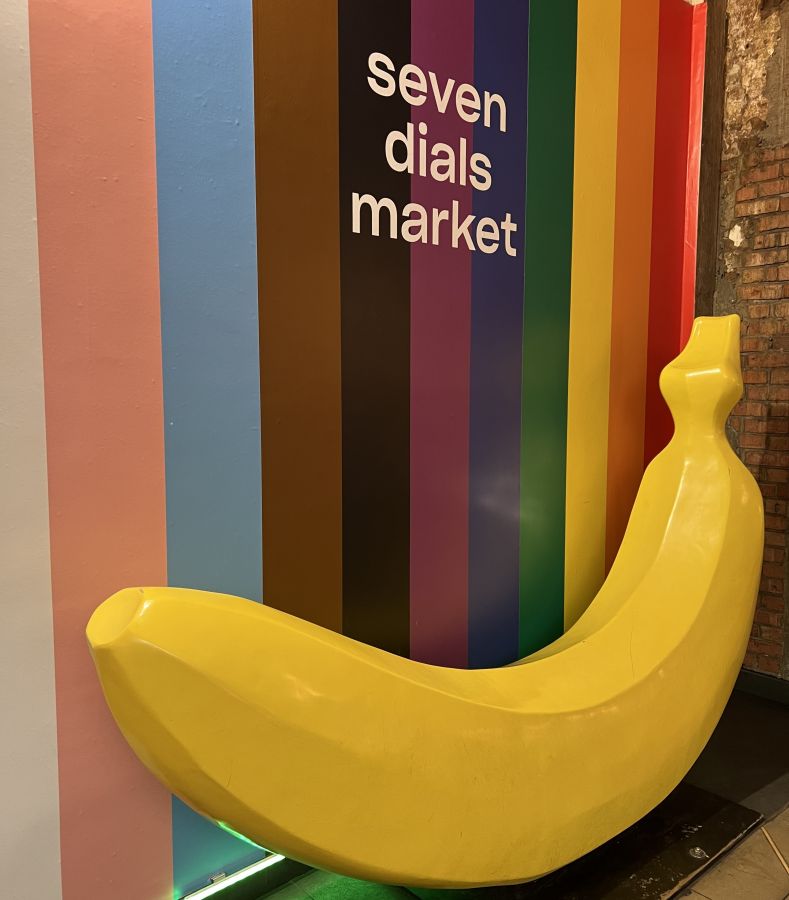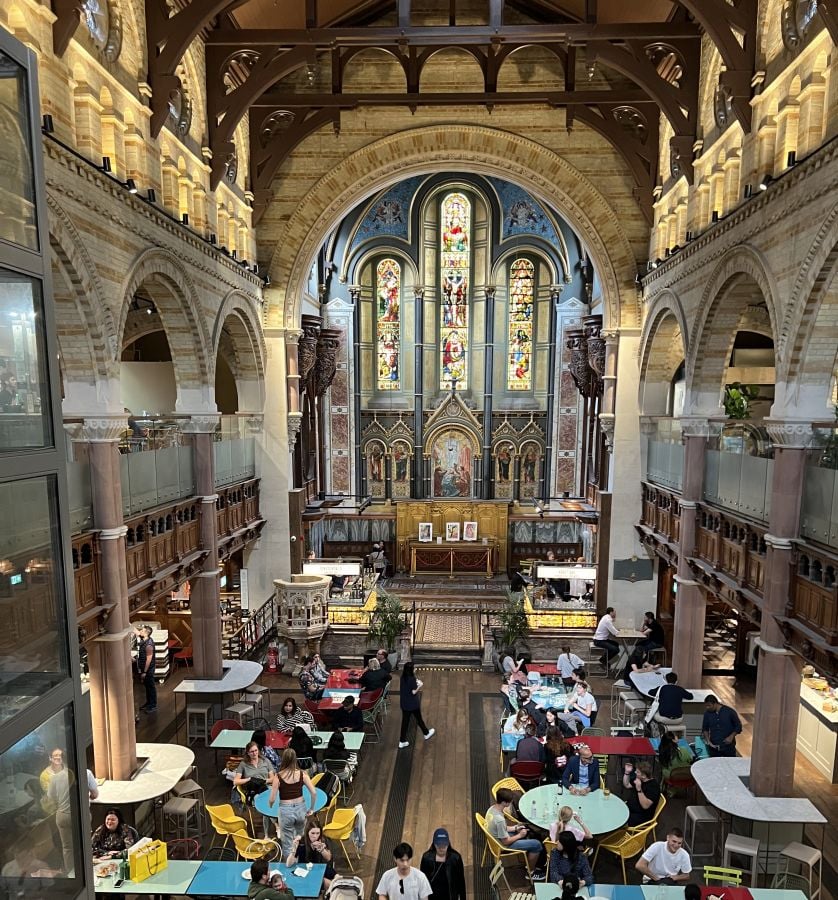 Market Halls Victoria:
What's the deal? This dance hall turned epic food hall exaggerates the buzz of a food market. Showcasing diverse and electric food and drink offerings across 3 floors in an Edwardian Building with a special roof top terrace! There are 3 destinations, Victoria, Canary Wharf and Oxford Street, 25 kitchens and 200+ dishes to get involved with! Each location is vibrant with DJ's and live music events, be ready to get your grove on post food coma.
Variety: From burgers and tacos to fried chicken and rotis,it's safe to say there's something for everyone!
What we ate: Black Bear Burger – Misco Bacon Burger. Dry aged beef, cheese, smoked bacon, miso butter mayo, onions, with skin on fries with steakhouse rub and habanero honey mayo (is your mouth drooling?). Juicy burger with fatty smoked bacon in a brioche sesame seed bun. Miso mayo added an element of savoury and creaminess and packed some punch. The savoury rub on the fries was delicious, visual spice and herb appeal which led to a moreish side. The Habanero Honey Mayo was a winner, creamy, spicy and sweet, a great combo with the savoury fries.
Eggslut – Spicy Chicken Sando. Spicy fried chicken, sriracha, in house pickled cabbage, free range over medium egg, rich mayo in a warm brioche bun. Oh, and truffle hashbrowns in duck fat, truffle and rosemary salt. Savoury, spicy, tangy, rich – this dish had it all!
DF Tacos – Sweet & Smoky Grilled Chicken with Sweet Hibiscus and Smoky Chipotle Salsa, Crunchy Slaw, Salsa and Coriander. Fresh, vibrant and flavourful which left us with a smoky, charred aftertaste.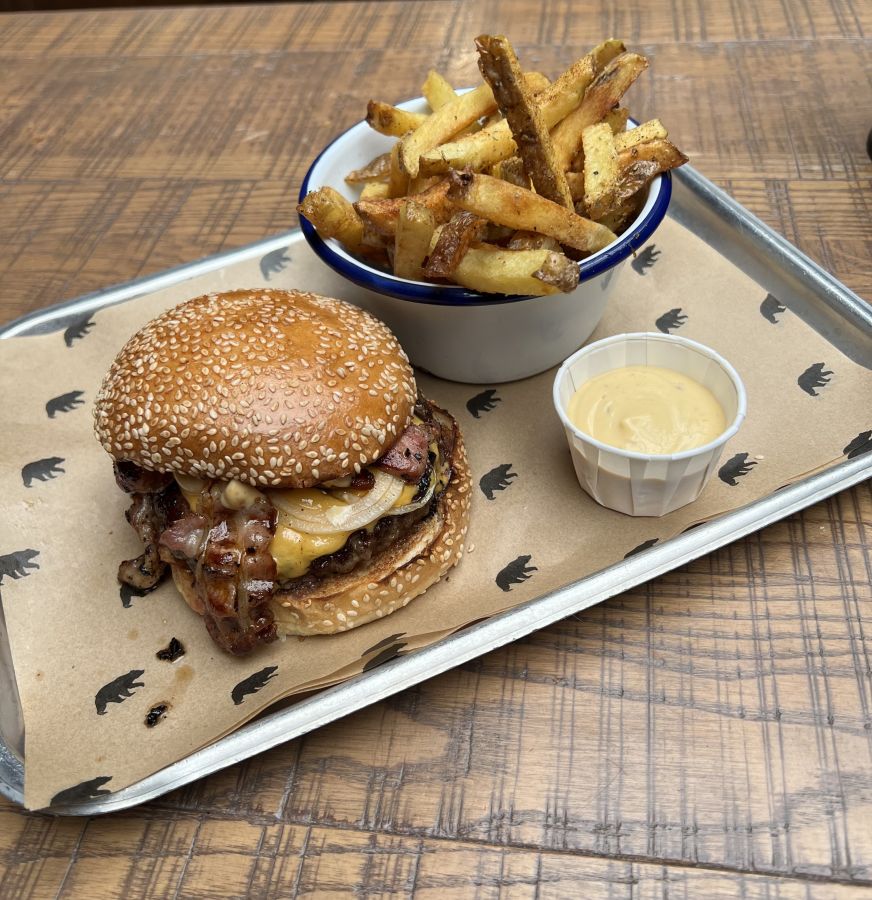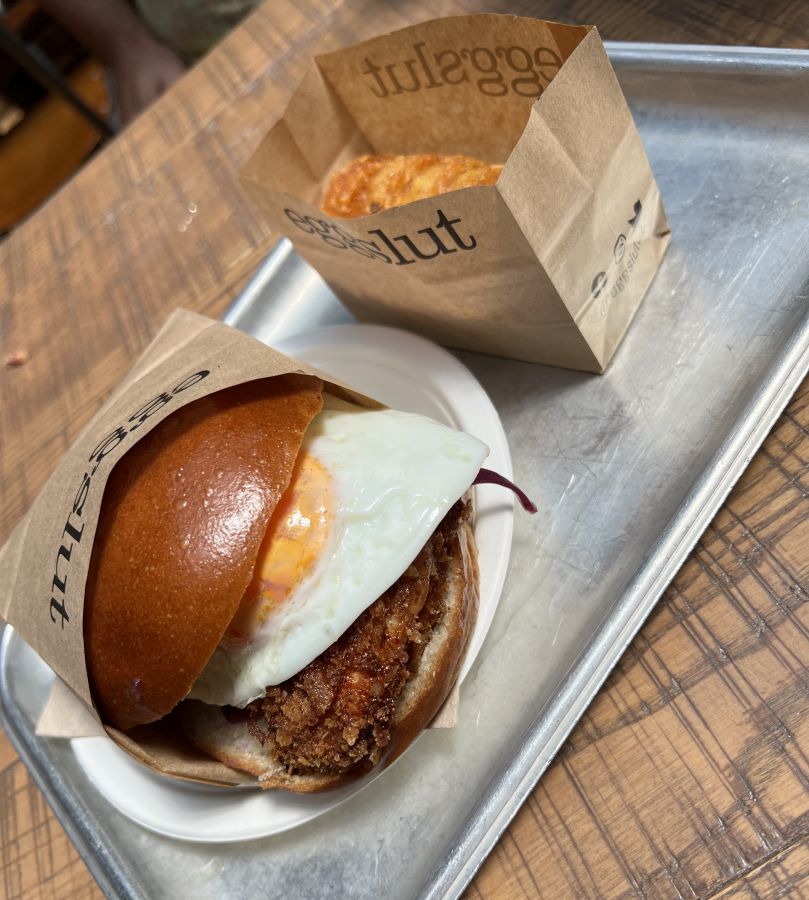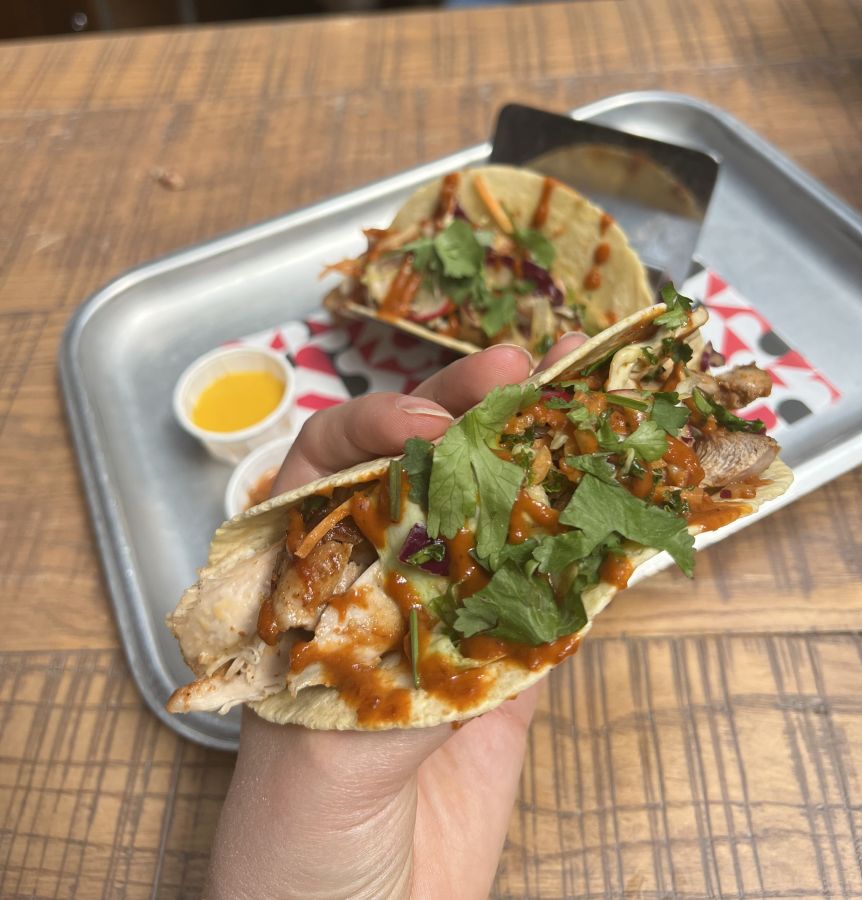 Seven Dials Market:
What's the deal? This market has been created by KERB. KERB is a membership organisation of London's most promising street food traders. They believe that the food on our streets should be filled with incredible, diverse, slap-you-round-the-face-it's-so-good flavour, and that the talented traders behind it should have the best chance possible to do what they love, develop their businesses and, ultimately, succeed from the kerb up. Located at Seven Dials, this indoor market with high ceilings, vibrant colourful block branding and of course, a giant banana, brings varying cultures and communities together under one roof.
Variety: A double story building, upstairs for elegant pink terrazzo countertop cafes and barrel vault brick arches; downstairs for steel-fronted street food kitchens including Korean street food, Syrian dishes, sweet and spicy flavours from Bangkok and the world's first cheese conveyor belt – dreamy!
What we ate: El Pollote –Guava Glazed Wings with Habanero Mayo, 'Buffanero' Wings with Buffalo & Habanero Sauce, Queso Fresco. Real intention behind the flavours – no skirting round the issue. It's Latino to its core. Our favourite was Buffanero – divine! Served on a tray, perfect bite sized wings, drenched in a vibrant red-hot sauce and drizzled with creamy cooling quesco fresco and topped with a chilli sprinkle and vibrant green parsley. Buffalo and habanero chillis both identifiable when eaten. Hot hot hot, and makes you come back for more.
Yum Bun – 'Fluffy Clouds of Flavour Fusion' Prawn Bun Special – Kastu prawns, fresh green chilli, coriander, lime sambal. The katsu prawns had a crunchy batter but were turning slightly dry, however, the flavours packed a punch, especially the lime sambal which added a freshness.
Pork and Chive Gyoza Steamed with Szechuan Chilli Oil. Delicious pork and chive steamed gyoza, packed full of flavour and siting in a chilli soup, covered in Szechuan chilli oil which was extremely moreish! The perfect balance of flavour, texture and spice.
If we'd had room: Bad Boy Pizza Society 'Bad boys by name, all round nice lads by nature. This quartet are serving NY-style pizzas by the slice or a full 22″ with a flair that is a real tonic.' We would have loved a slice of classic pepperoni pizza.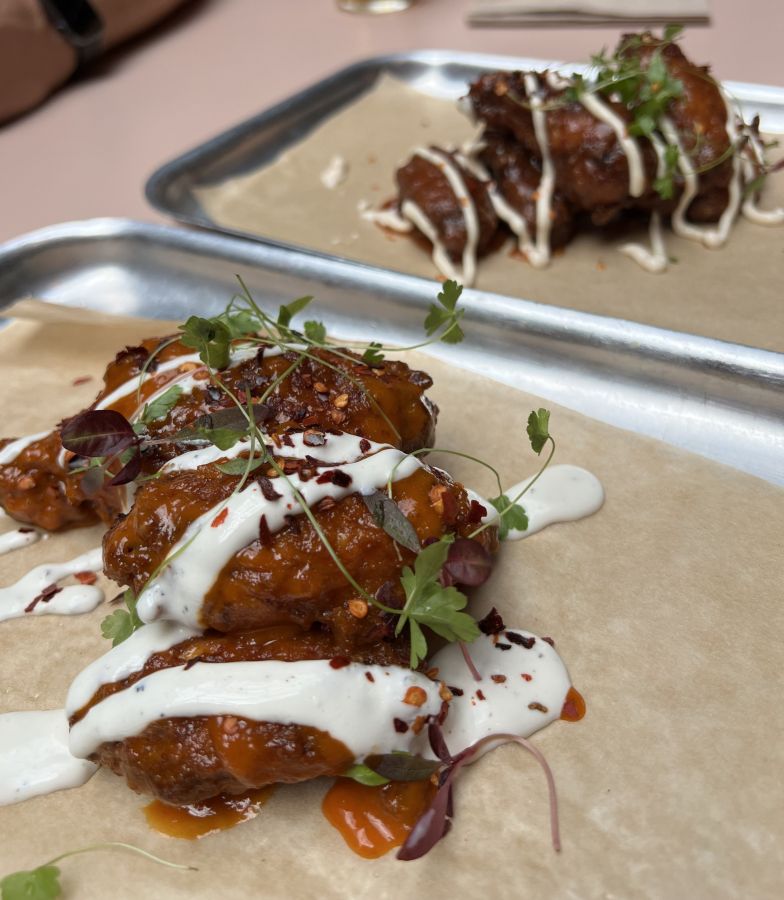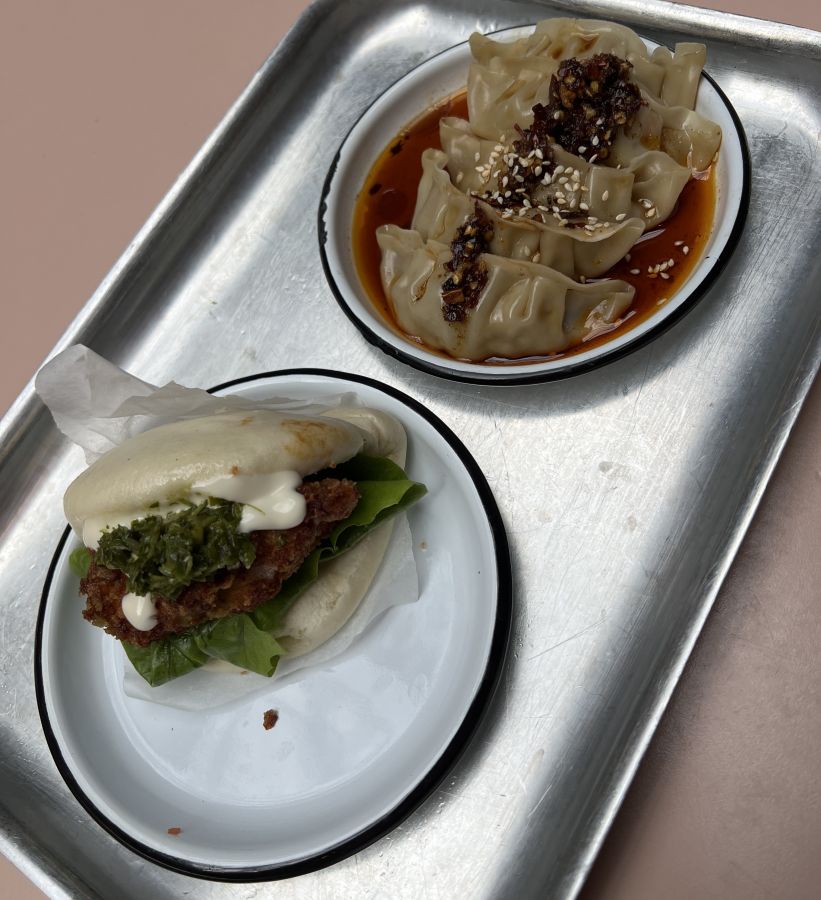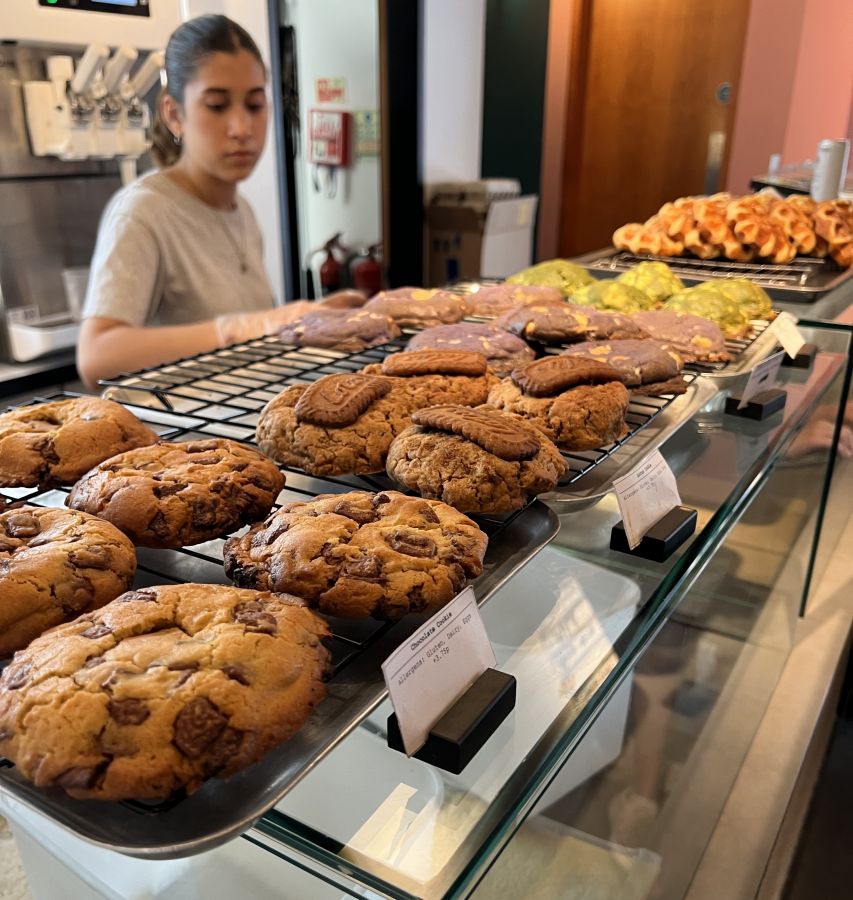 Mercarto Mayfair
What's the deal? Two floors of sustainable authentic food, worldwide cuisine, a rooftop terrace, wine cellar and community space. The prices are slightly higher, to reflect the maintenance of fresh, artisanal sourced ingredients. The outside building is spectacular, with high white pillars that stand out against the red brick buildings on either side. As you walk into the large church you're left breathless, directly facing beautiful stained-glass windows, high pillars and arches all with exceptional detailing.
Variety: An abundance of high-quality offerings such as Malaysian and fusion street food, dumplings and ramen, grilled meat, Spanish cuisines, fresh and authentic pasta, Neapolitan pizza and even lobster! Small, upmarket kitchens from around the world.
What we ate: Molo – MOLO brings to the table an unprecedented food fusion experience. The output consists in proper and unique seafood buns, created with seasonal ingredients and carefully selected by their chefs. Whole Grilled Lobster, Soy Garlic Butter, Double Fried Chips. The lobster was perfectly cooked and drenched in soy garlic butter for an umami hit, with visual vibrant flecks of parsley. The chips were light and crispy and soaked up the butter to perfection. The great food was topped off with the atmosphere. A small, two-seater table overlooking the rest of the church, somewhere we never thought we'd be eating lobster. Paired with a fresh tangy lemonade.
If we'd had room: Handmade Pasta from Pasta London. Keeping it classic with their Taglionlini Cacio e pepe, an authentic Italian dish made in a giant creamy parmesan bowl, with the option to add bacon, mushroom, and extra parmesan. Can you ever have too much cheese?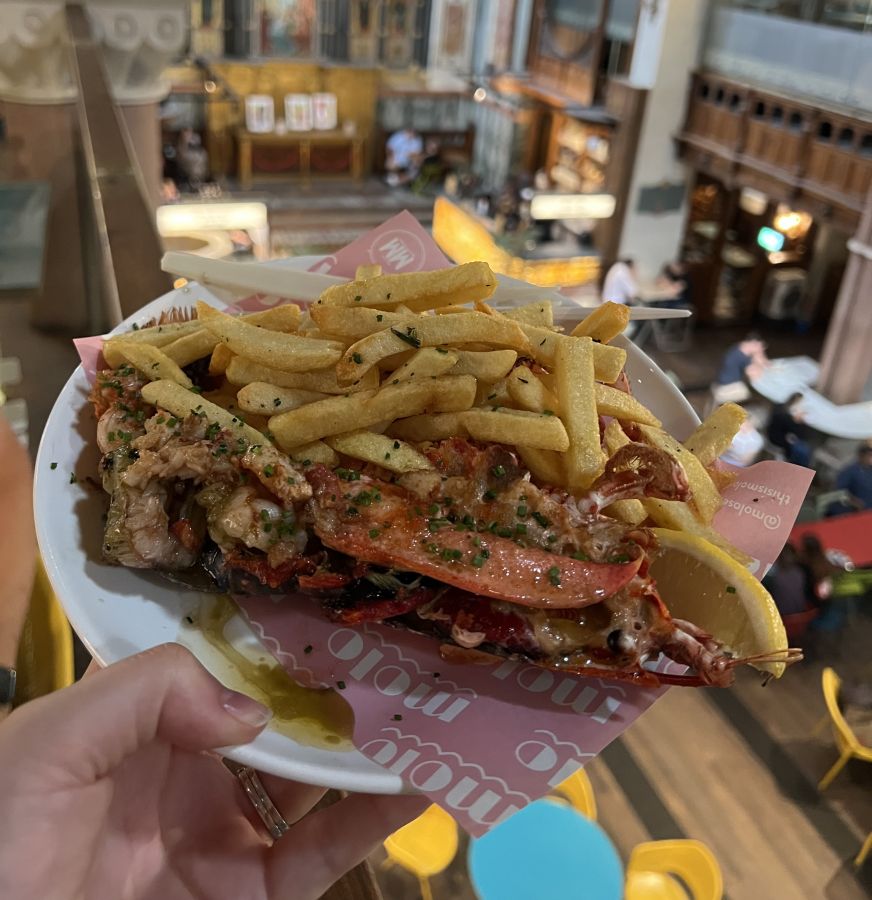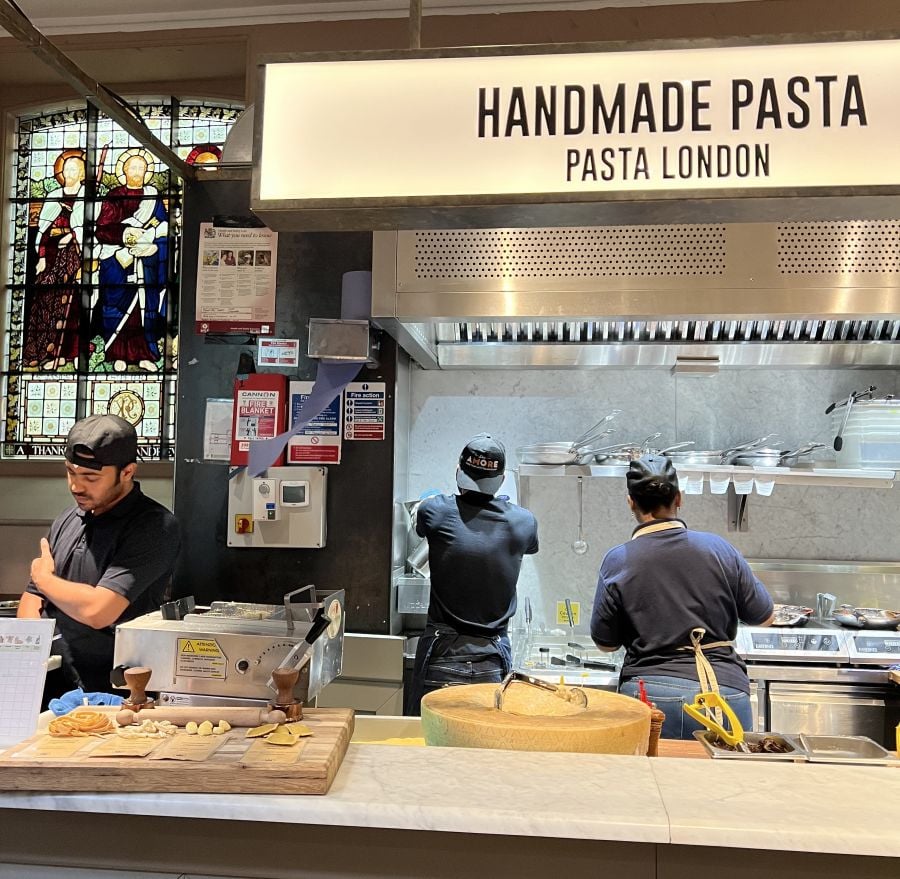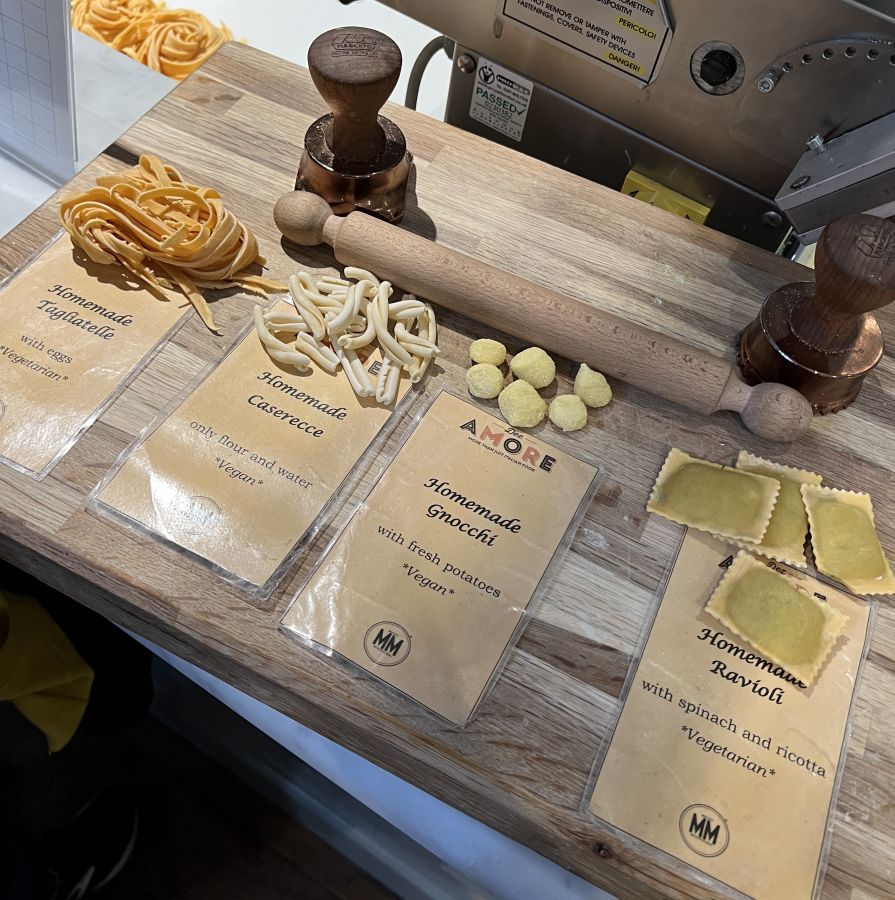 We also managed a quick stop into Fortnum & Mason to soak up the exquisite offerings of honey, jams, chocolates and freshly made marshmallow squares.
For media enquiries, please email: mary.niven@dalziel.co.uk