We visited the Food and Drink Expo 2023 which is an event that brings together hundreds of UK's food and drink companies to showcase their products. The expo highlights trending products, recent launches, and the industry's vision for the future of Food and Drink.
From the expo, we identified 3 main trends influencing the industry.
Kombucha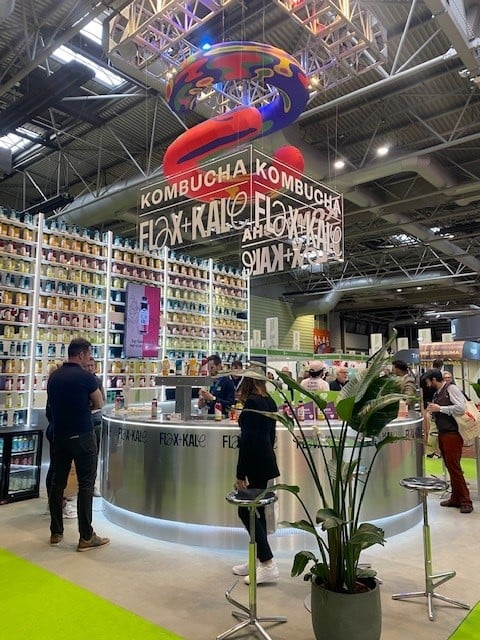 Kombucha is a mildly fizzy, fermented drink made from sweetened tea and a specific culture known as a 'scoby', short for a 'symbiotic culture of bacteria and yeasts'. The bacteria and yeasts in the scoby convert the sugar into ethanol and acetic acid. The acetic acid is responsible for kombucha's distinctive sour taste (BBC Good Food). Some people love it, some people hate it, but it's a proven talking point. Despite it's potential off-putting vinegary flavour, it has managed to gain a cult following at rapid speed through innovative flavour varieties.
A newish brand that stood out at the event was Flax & Kale. Their colourful kombucha ticked so many health boxes such as antioxidant properties, rich in iron and great for gut health, but it was also interesting to see, on the huge, colourful, attractive stand, how it was being used as a mixer. The vibe felt very gen Z.
Other brands such as Equinox, founded by Daniel Spayne and Hugh Fearnley-Whittingstall have recently stated, "demand for kombucha is increasing all the time and our growth and confidence in the drink has always grown with this". Equinox have also said that the UK kombucha market was set to grow by 21% over the next six years (Grocer).
The youngest demographic of consumers is now drinking less alcohol, which makes alcohol companies seek alternative and adaptive measures in order to fulfill their needs. Mintel highlights how alcoholic beverages that offer a stronger health halo and fresh flavours are driving a sense of intrigue within this area. 40% of consumers aged 25-34 drink kombucha so there is a clear opportunity for hard kombucha (kombuchas alcoholic sibling) to disrupt the alcohol market. Within America, several brands are currently aiming to blaze the trail for hard kombucha. KYLA Hard Kombucha is a brand out of Portland, Oregon and the bottle clearly markets the health benefits on the label, such as containing 2g or less of sugar and only 100 calories per bottle.
Flavour Exploration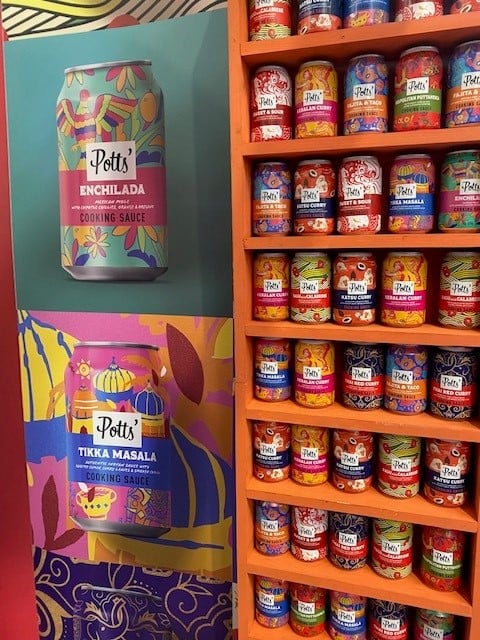 World cuisines aren't a new foodie trend as such, however, intensified, authentic flavours are growing. For example, Italian cuisine remains the nations favourite (Mintel), but where we may have seen a Tomato and Basil flavoured product 5 years ago, we are now seeing an adaption on this with flavours such as Smoked Sundried Tomato and Italian Herbs.
As consumer tastes evolve and world travel becomes ever more frequent, there is a clear demand to incorporate global flavours into menus and onto supermarket shelves. The expo showcased world foods with Potts using cooking sauces in cans to travel the world! Their sauces include authentic ingredients that define their recipes from others on the market. Some of their range included, Keralan Curry sauce using fennel and roasted chillies as well as Fajita and Taco Pibil sauce with the use of roasted chillies and Mexican achiote paste.
"Low&No" Alcohol Trend
With 8.4 million UK adults choosing not to drink alcohol and the rise in demand for low and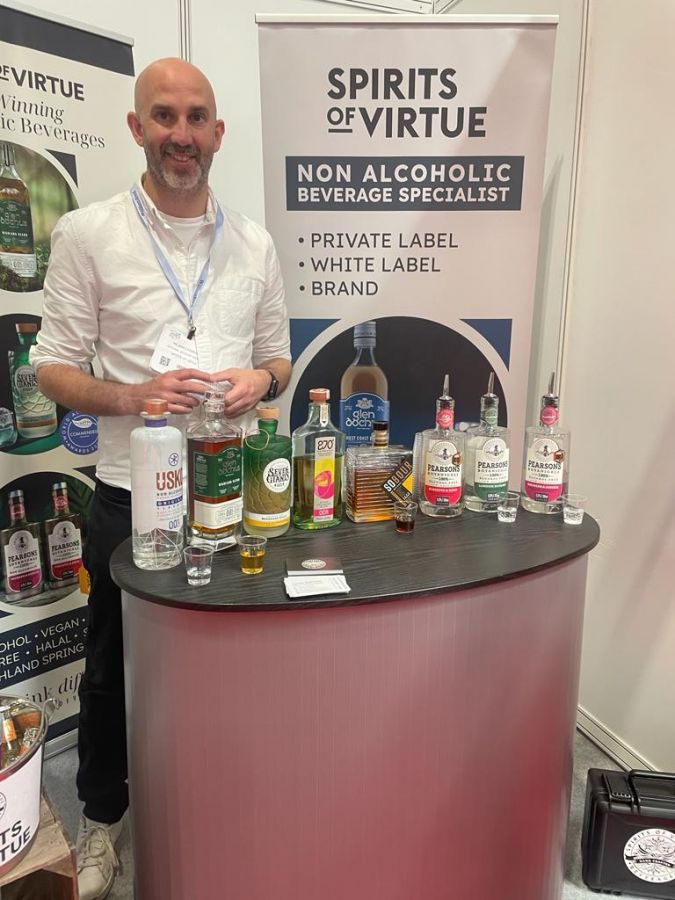 non-alcoholic drinks in recent years (Grocer), it's clear that consumers are seeking alcohol alternatives and the expo showcased many producers in this ever-expanding market. Betty Buzz mixer brand are finding consumer focus within high quality no alcohol drink options that are not only delicious but suit a variety of occasions and drinking preference (Grocer).
The expo showcased brands such as Spirit of Virtue tapping into this trend of premium non-alcoholic beverages. The founders established that consumers had a thirst for something healthier, lighter, greener, but more delicious than ever – as more and more people choose irresistible flavours, botanical ingredients, and authentic experiences over the fleeting pleasure of alcohol.
This trend comes alongside the movement towards healthier consumer lifestyles. People want the pleasures of an alcoholic drink, without the guilt. Mintel highlight this as an industry trend where consumers are unwilling to compromise on small moments of pleasure and indulgence, with consumers carrying a heavy mental load following crisis upon crisis. Staying mentally sharp is also an area of growth whether it's consumers mental performance at home, at work or at play. Mintel predicts that the next few years will see brands promoting the brain boosts available from familiar energising ingredients such as caffeine and plant-based ingredients like fruits, vegetables and legumes.
In summary, we thought it was great to see the variety and array of innovation and excitement in the food industry with focus on fermentation, bold flavours as well as health, which makes it clear that it's not a fad and is certainly here to stay!
If you're interested in our thoughts and learning from the expo, please contact us at mary.niven@dalziel.co.uk.