Hoppers opened in Soho back in 2015 and quickly became a cult favourite. Named after the Sri Lankan breakfast staple – a crispy, bowl-shaped pancake made from rice flour and coconut milk, Hoppers takes you on a culinary journey through Sri Lanka and Southern India. Since their opening, Hoppers have opened 2 other sites in Marylebone and Kings Cross, as well as several delivery kitchens across London, proving the popularity of the restaurant! In 2022, Hoppers brought out their new cookbook simply named, 'Hoppers: The Cookbook' which was in the financial times best books of 2022 under food and drink. Their aim is to inspire consumers to cook as many of the dishes herein, enjoying them with family and friends amidst laughter, conversation and love – just like a traditional Sri Lankan gathering!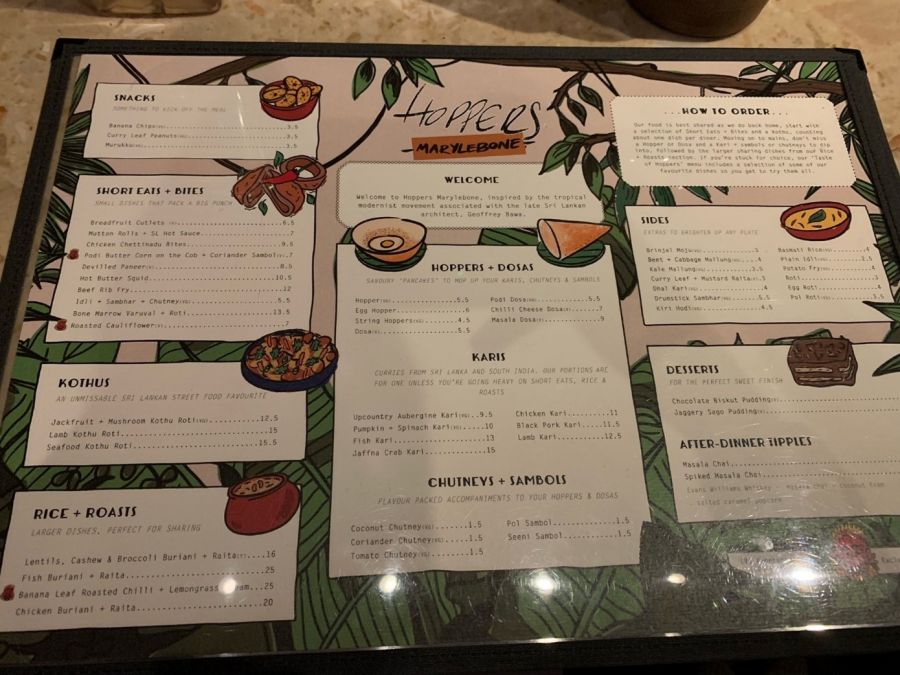 Sri Lankan cuisine is filled with an abundance of seafood, vibrant vegetables, fragrant herbs and an array of spices. Coconut milk is the staple ingredient for the bases of Sri Lankan curries and in Hoppers case, they make their own coconut milk by sieving freshly grated coconut through a muslin which results in a thick and creamy milk (similar to coconut cream), which they add towards the end of the cooking process. The coconut gratings are then mixed thoroughly with warm water and squeezed again, to produce the second extraction which is slightly thinner and is used at the start of the cooking process to cook down a sauce, without it becoming too rich. Another ingredient used heavily within Sri Lankan cooking is jackfruit, where it is used daily in most house-holds, where the unripe green flesh is cooked in curries and the yellow, ripened flesh is eaten like fresh.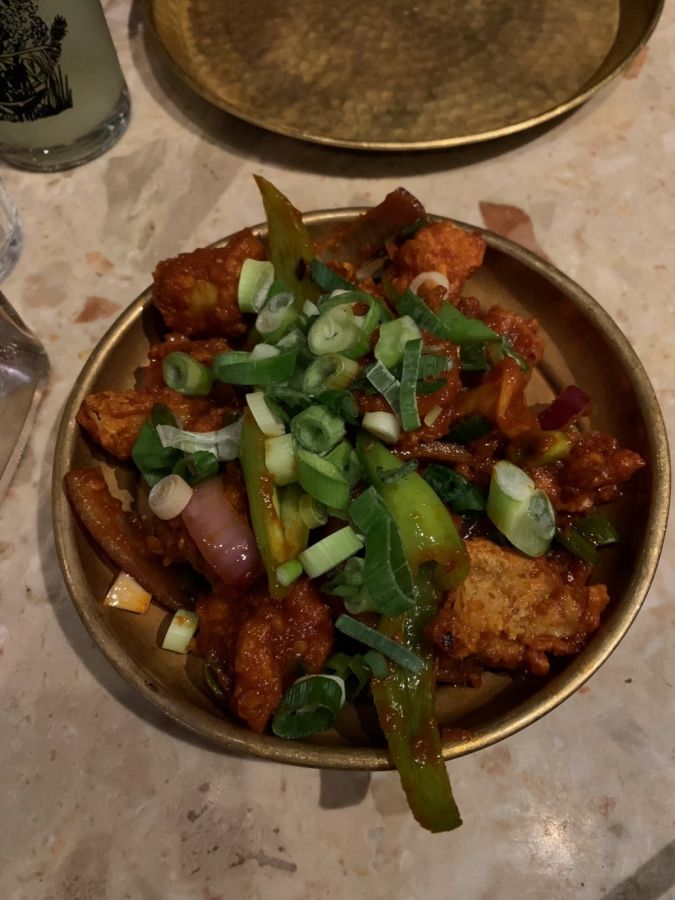 We started with Hot Butter Squid on Hoppers short eats' menu; a generous portion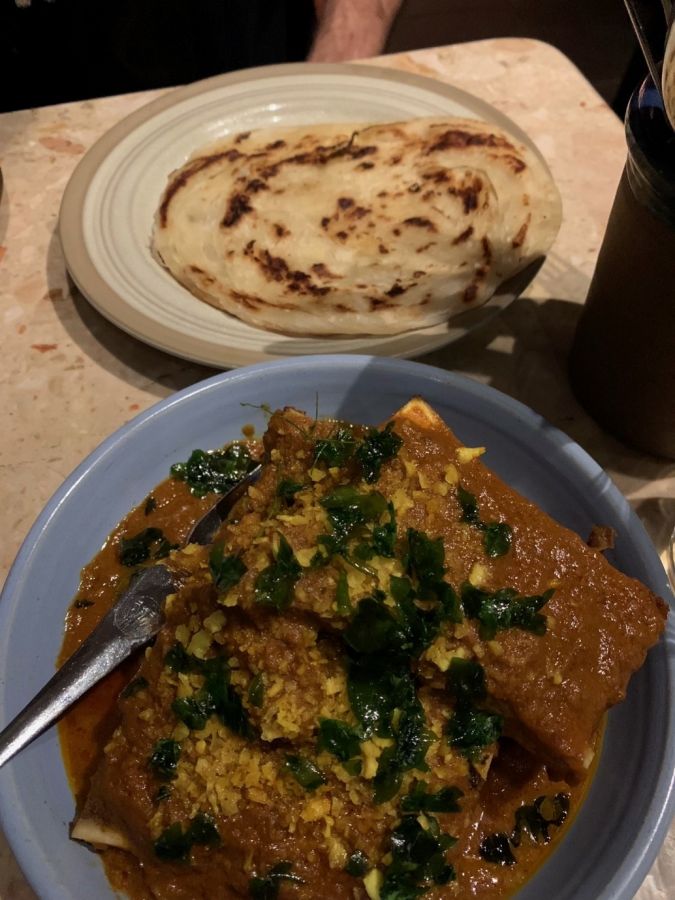 of squid comes in a thick, punchy sauce with warming heat that builds, it made us wanting more! The batter had the crispest edges, but the squid was still tender and soft, delicious.
Continuing with the short eats, the Beef Marrow Varuval & Roti brought roasted bone marrow in a sauce richly flavoured with roasted coconut and warming notes of cumin and coriander. The texture of the bone marrow added a creaminess to the dish which paired perfectly alongside a buttery roti, which we used to scoop bits of the bone marrow onto the flatbread.
India and Sri Lanka share a maritime border which is why some cooking techniques and influences are shared between the two countries. The restaurant takes you on a culinary journey through Sri Lanka and Southern India. Next up, we ordered the Masala Dosa, originating from India, this dish has a golden-brown thin pancake made from fermented lentils and rice, which comes folded. The filling consists of soft, spiced potatoes and onion which was a thick texture. Packed full of flavour with dominating notes of turmeric and mustard seeds, the coconut chutney served on the side was a welcomed dip adding creaminess to the dish. The Hopper, a similar staple of Sri Lankan cuisine, is a crepe like dish, with a soft bottom but brittle, crisp edge – it really is a thing of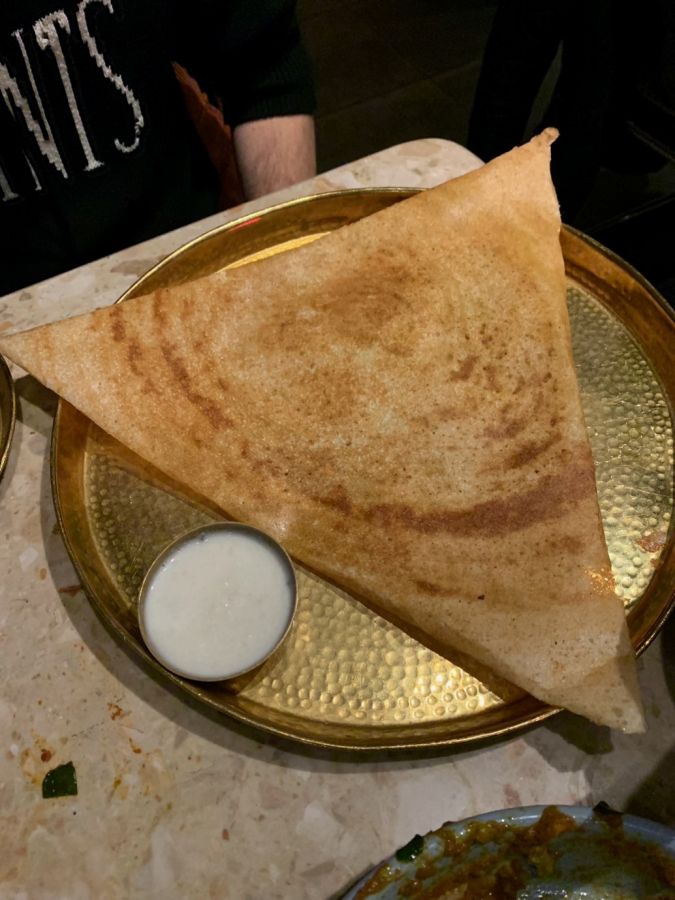 beauty! It is traditionally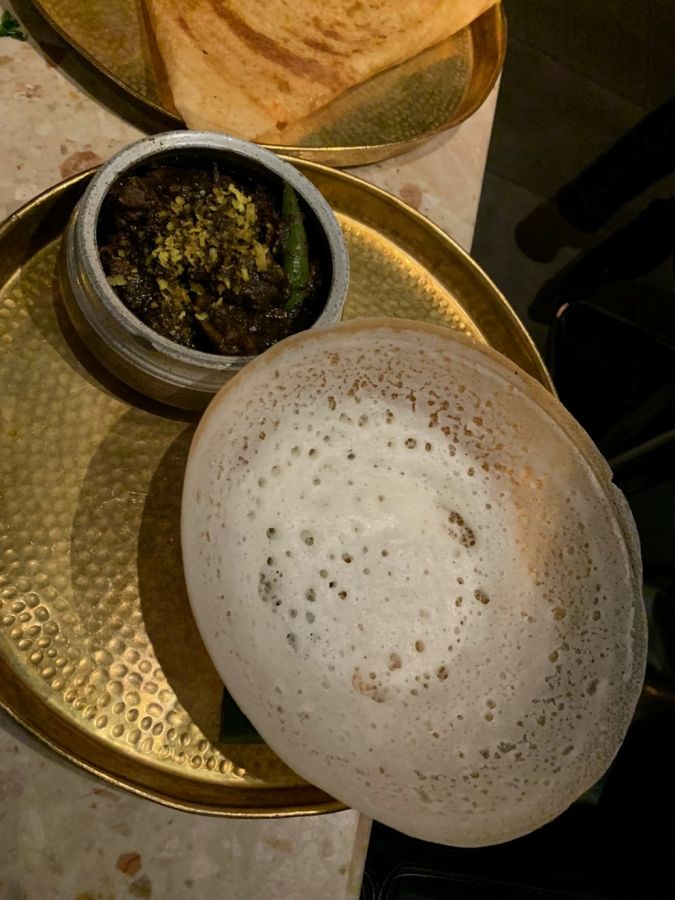 eaten as a base for savoury, spicy assemblies. We simply ordered the plain hopper off the menu, however, eggs are often added to the base of the dish. Tearing pieces off to eat them feels like you're ruining the true beauty of the dish, however, you soon forget about that after irresistibly dipping and dunking in curried dishes such as Black Pork Kari and Idli Sambar.
Idli Sambar with chutney reminded us of a lentil soup with balanced spices. Traditionally, a South-Indian breakfast combination where soft, fluffy idli (savoury steamed cakes) are served in a vegetable lentil soup containing dried chilli and okra. The dish was drizzled with a fiery chutney not for the faint hearted, and a coriander purée which added a fragrant, freshness to the dish.
The winner, 'Black Pork' named after the colour of the roasted spices. The curry had a compelling punch and depth of flavour, heavily spiced with all spice, clove, cardamon and lots of heat! The Kari was a drier texture to a curry we might be used to in the UK, but certainly delivered in flavour.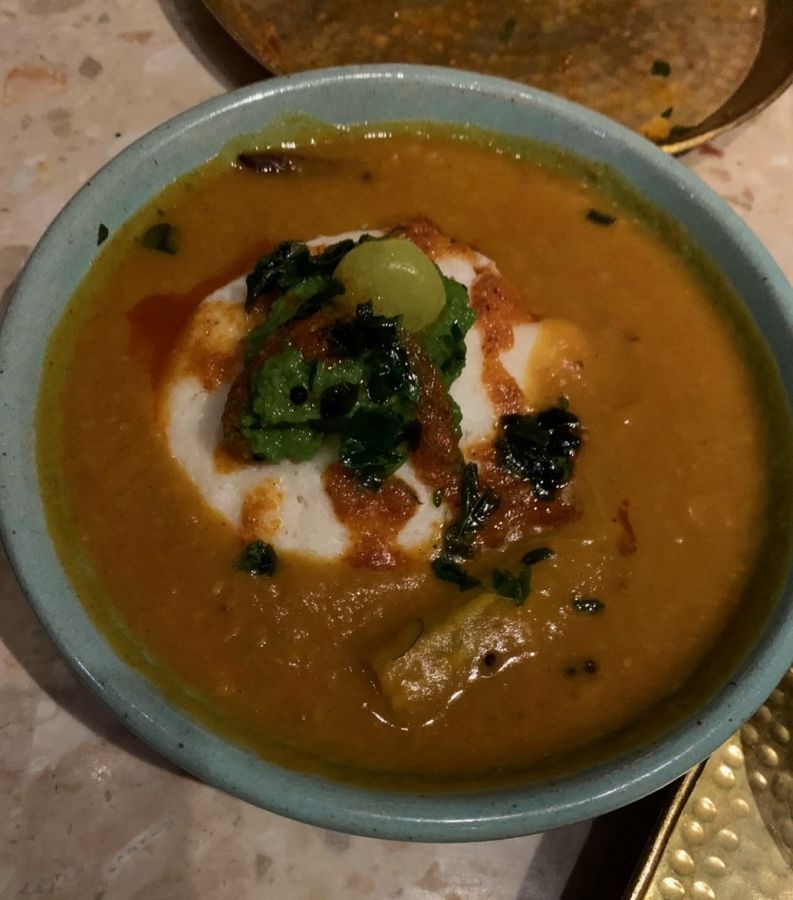 It's safe to say that Sri Lankan cooking offers an alternative taste that doesn't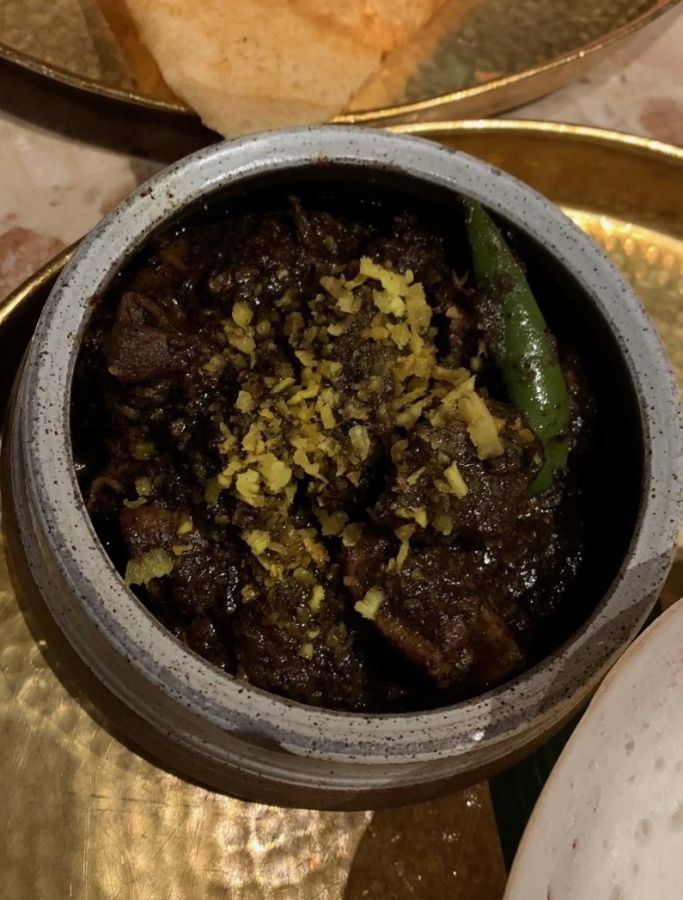 currently exist in the UK's 'mainstream' diets – but after eating at Hoppers, we can see why this cuisine is predicting to continue to dominate. The freshness and abundance of spices add a unique flavour and one thing we picked up on is the warming heat that transpired into each dish we tried, including the drinks menu!
For media enquiries, please email: mary.niven@dalziel.co.uk