The way food is prepared, along with the use of local and seasonal ingredients often merge to create dishes unique to a particular region. Traditional British meals have ancient origins such as meat pies and Fish and Chips. Certain classically British dishes have been documented as part of history since the 13th Century, such as the Cornish Pasty where the thick pastry was used as a seal to pack the filling into! It wasn't until much later when the art of pastry was mastered, and the entire pasty was consumed! It was thought Fish and Chips were introduced by Jewish refugees who imported the notion of frying fish in a thin layer of flour and around the same time, carried the idea of fat-fried potatoes. The popular dish was such a huge part of the national diet, during the Second World War Churchill ensured Fish and Chips was one of the few foods that weren't rationed. In recent years, the urge to support local producers has taken centre stage and since COVID-19 nearly three quarters of people are wanting to see more UK food businesses express support for local producers (Food Manufacturer). We have seen supermarkets such as Morrisons who have introduced their Nation's Local Foodmaker's programme which searches for local food and drink makers. Supplying direct to their nearest store, or to stores across their region, working with suppliers. From farming and fishing, to growing and baking, Aldi also promote their commitment to sourcing products from the UK. The retailer champions the Great British product quality, highlighting that their entire core range of fresh milk and meat is from the UK as well as 40% of their fresh fruit and veg sold is also British.
Comfort Food
As people are returning to their workplaces, an increased demand and craving for comfort, home-cooked food unravels. Whether it's dishes we know and love or even specific ingredients such as ginger in a broth, it's all about the experience it brings us. M&S have tapped into this trend, introducing their Gastropub range which they say enables you to enjoy restaurant-quality food from the comfort of your home. From flavour-packed main courses to indulgent starters and sides it's comfort food we all know and love. We tried the M&S Steak and Chips pie made with two-hour, slow-cooked braised cuts of British beef doused in rich ale gravy, topped with a layer of smoky tomato chutney, encased in an all-butter pastry base, and topped with cheesy chips, bringing this classic combination as one. The retailer has also introduced Gastropub fish and chips, cheese rarebit and ham crumpets and mac 'n' cheese balls.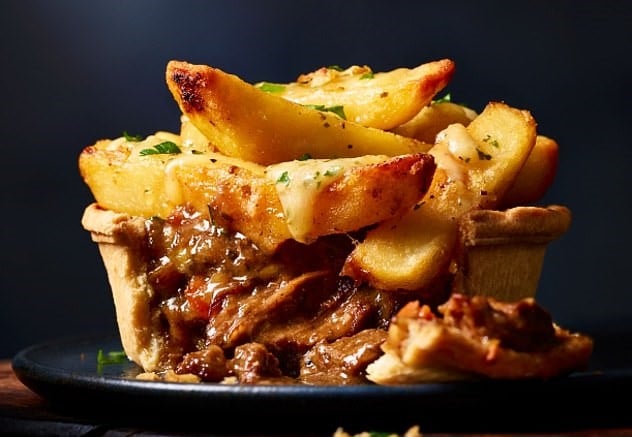 Family recipes passed on from generations, stodgy carbs and classic puddings are all ways to feel connected to comfort foods. As ever, TikTok plays a role in food trends and one-pot wonders as well as tray bakes are extremely popular on this social media platform. TikTok is predicting nostalgia as a food trend for 2022, in the aftermath of 2021's classical desserts taking centre stage. These throwback desserts are also sparking interest in 90s and 00s brunches and themed restaurants.
Twists on Classics
M&S have also introduced increasingly popular crumpets to their range, traditionally served with butter, the retailer has topped their sourdough crumpets with Barber's mature cheddar cheese and beer-glazed outdoor-bred Wiltshire ham. Growing demand of crumpets has soared the innovative new products being introduced into the supermarket shelves. What once was a classic, has been brought into the twenty-first century, pushed by chefs such as Tom Barnes on the TV program, The Great British Menu creating a dish with crumpets topped with fennel pollen and lamb sauce.
Morrisons are also tapping into this trend with their new The Best Gourmet Collection, focusing on British meat from their trusted farms, backing Mintel's recent study which found 48% of UK consumers say the COVID-19 outbreak has made it more important to buy British produce. This range consists of Trimmed Rack of Lamb with a Pomegranate Glaze, British Beef Aged Rump Cap with a Cocoa, Chilli and Espresso Rub as well as Slow Cooked Bone-In Pork Belly with an Apple Cider and Chilli Glaze. Combining classic British cuts with bold flavours and sauce sachets, twists on classics! Morrison's are proving that the smoke trend is more complex than just hot or cold smoke and more about specific smoke and what complex flavours they can offer. This range consists of cherrywood, hickory and oak smoke.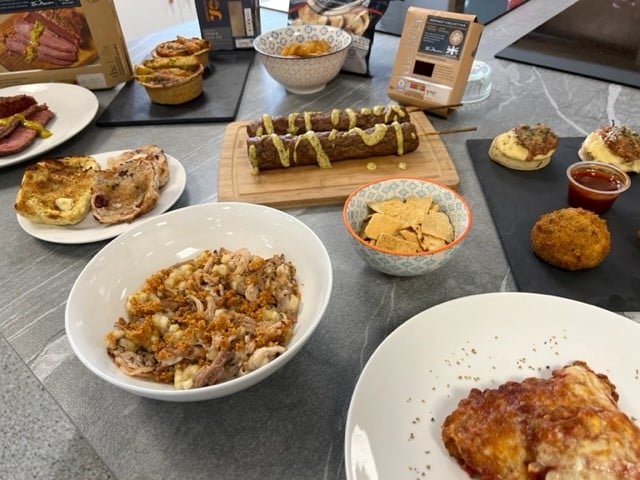 Follow our Instagram page to keep updated with what our team is up to.
For media enquiries, please email: mary.niven@dalziel.co.uk