The demand for plant-based is vastly growing, with flexitarians, vegetarians and vegans seeking plant-based alternatives to support an alternative and more sustainable lifestyle. Higher demand in this area has led to higher quality for taste and texture expanding innovation in retail and foodservice.
In 2021, more than 825 new vegan products and menus were launched for Veganuary and this year, we've seen this number continue to grow. From vegan sandwiches and pizzas to cheese and ice-cream, it's now easier than ever to turn to a plant-based diet. For many, the challenge we face is overcoming the health halo that comes with plant-based products. Recently we have seen plant-based products in the spot-light regarding the nutritional content within the makeup of these products. Although meat replacers maybe a good source of nutrients such as fibre, some contain higher quantities of saturated fats and lack in levels of iron and protein.
NPD Manager, Ellen Brimacombe mentions, 'there was a big boom in vegan launches two/three years ago, where everyone was trying to get a share in the vegan market. What we're seeing now is a slower launch of products but much more variety in product types, for example, vegan beef wellingtons at Christmas, vegan soft cheese, vegan sliced meats, as well as an improved consumer experience.
Vegan development has come on in leaps and bounds over the recent years and you can see it in the launch of the products to market. Now that vegan products are more widely available, consumers are demanding a closer match to meat in terms of flavour, texture, and overall experience, so naturally we're seeing improved development in the market. Research and development have allowed for the science of vegan products to be better understood.  The next step with vegan development will be to home in on the nutritional value of the products, so that they can better reflect a healthy diet'.
As the McPlant burger and Burger King vegan nuggets hit the market, we decided to put the products to the test. The McPlant consists of a Beyond Meat patty, layered with a slice of vegan cheese, iceberg lettuce, sliced tomato, dill pickle slices, onions, mustard, ketchup and vegan sandwich sauce, all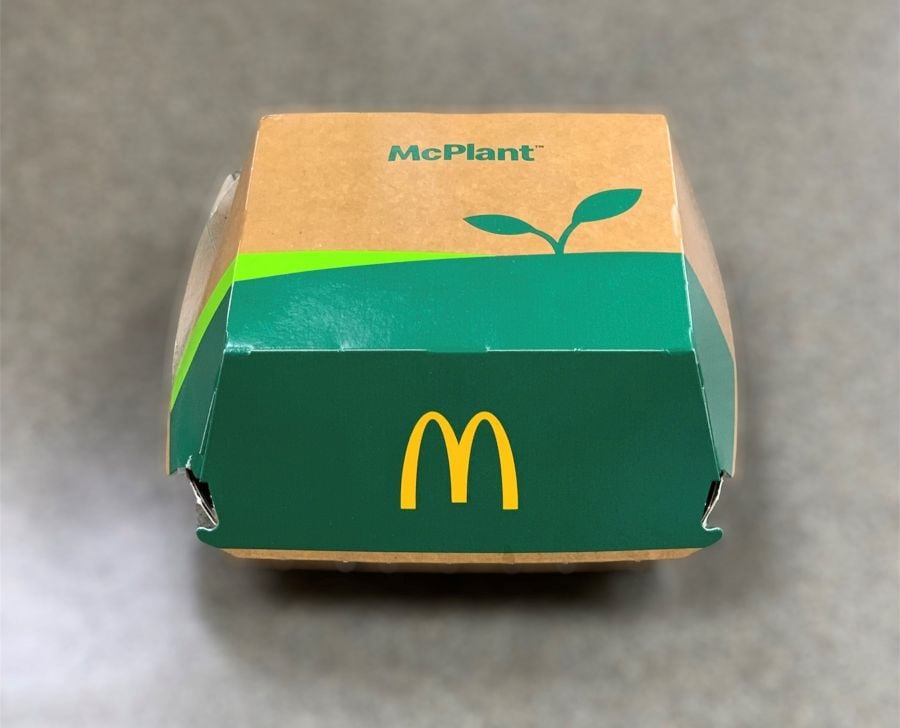 surrounded by a classic McDonald's sesame burger bun. The patty has flavour and tastes remarkably meat-like, without being overwhelmingly so. The texture is moist and has a slight chew as you'd expect. The cheese element lacked in salt and didn't deliver on texture.
The Burger King vegan nuggets looked and felt exactly like chicken nuggets. The outside was crunchy and crispy, and the inside had deep savoury, umami chicken notes. Another brilliant vegan product new for 2022.
Dalziel Ingredients can offer great expertise in vegan development, from flavours to textures and everything in between. We have a great understanding of the functional ingredients needed to replicate meat, and the factory processes needed. We can offer flavour and functional packs for a range of products such as sausages, burgers, sliced meats, mayonnaise etc.
We keep up to date from attending many vegan webinars in recent years and also have a wide range of suppliers with expert knowledge on the topic and a variety of great ingredients to help us create great products.
Our development team are currently exploring the functionalities of varying fibre. Specific fibre's can be used to create an excellent emulsion and firm bite to a plant-based product. Our aim is to create not only the layers of flavours to achieve a 'meat' flavour, but also the texture of meat. We also use fava bean protein to create a juicy mouthfeel when eating, as well as shea fat to give the juicy fatty mouthfeel of meat. Lots of varying flavours allow us to mask off taints of proteins, emulate a fatty mouthfeel, give a mouth-watering savoury flavour, and offer a top note in many flavours such as beef, chicken, pork, fish, duck.
For more information on Dalziel Ingredients vegan, vegetarian and plant-based capabilities, please contact your Dalziel account manager or contact us; https://dalzielingredients.co.uk/contact-us/
For media enquiries, please email: mary.niven@dalziel.co.uk