World Cuisines
With restrictions on travel continuing, consumers are recreating well established world cuisines at home. Many of us are exploring further afield and taking our taste buds on a journey.
67% of people see world cuisine foods as a fun way to "travel through food" (Mintel). According to The Grocer, this trend is set to continue, with consumers continuing to make their gardens feel like the holiday destinations we are still unable to visit!
So, which world cuisines are popular? Through our inhouse benchmarking, we have seen an increased demand in Middle Eastern flavours. Earlier this year, Waitrose brought out their Levantine Table range which consisted of flavours of the Middle East. Strong, bold spices were used throughout products such as Slow-Cooked Baharat Chicken and Spicy Batata Harra Potatoes. We have also seen a rise in Middle-Eastern flavours within our development team and have successfully helped launch three products with rose petals.
Japanese products have proved very popular this year with flavours such as yakitori and tonkatsu. Katsu is still on trend and has been craved by many Brits! We have seen the Katsu name being used within different markets, from crisps and sauces to glazed chicken and potato wedges! BBC News have also caught onto this trend, explaining that staples, including soy sauce, sesame oil and miso, are widely available, and some other everyday condiments such as tomato ketchup, Worcestershire sauce and curry powder are surprisingly popular in Japanese cooking. With the Olympics taking place this summer we expect to see further Japanese flavours and blends on the market.
Plant Based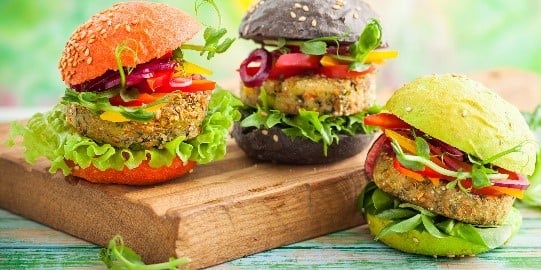 With the rise of the health-conscious consumer, we've also seen a big shift towards plant-based cooking during the pandemic. 53% of people that follow a plant-based diet do so because they don't agree with eating meat and 47% say that they do so because a plant-based diet is healthier. Over the last 5 years, Kantar research found that plant-based categories have doubled in size from £300m in 2017, to £608m in 2021. This trend is set to continue with major brands and retailers offering vegan products.
Meal Kits
The uptake in cooking during the various lockdowns and restrictions has boosted the usage of cooking pastes, seasonings, and meal kits in particular (Mintel). HelloFresh reported yet another bumper quarter of growth in 2021, in which revenue more than doubled (Grocer, 2021). NPD & Marketing Technologist for Dalziel Ingredients noted, 'We have seen a soar in meal kits within supermarkets specifically the 'just add' trend continuing to boom, making cooking easier for consumers. Retailers have really jumped on this trend, and I believe it's set to continue. The pandemic has made consumers more willing to cook, but also supports consumers who do not have the time to make meals from scratch.' Within the last year we have invested in the capability to sachet pack, enabling us to supply crumbs and sauces, ideal for a meal kit!
How Can We help?
We have an experienced NPD team to support you with your product development. Our marketing team is also up to date with all things new and are happy to support you with any information you may need, whether it's for idea concepts or briefs. We're here to help!
For media enquiries, please contact: Juliet Betterton, betterpr on 07970 523095, or email juliet@betterpr.co.uk